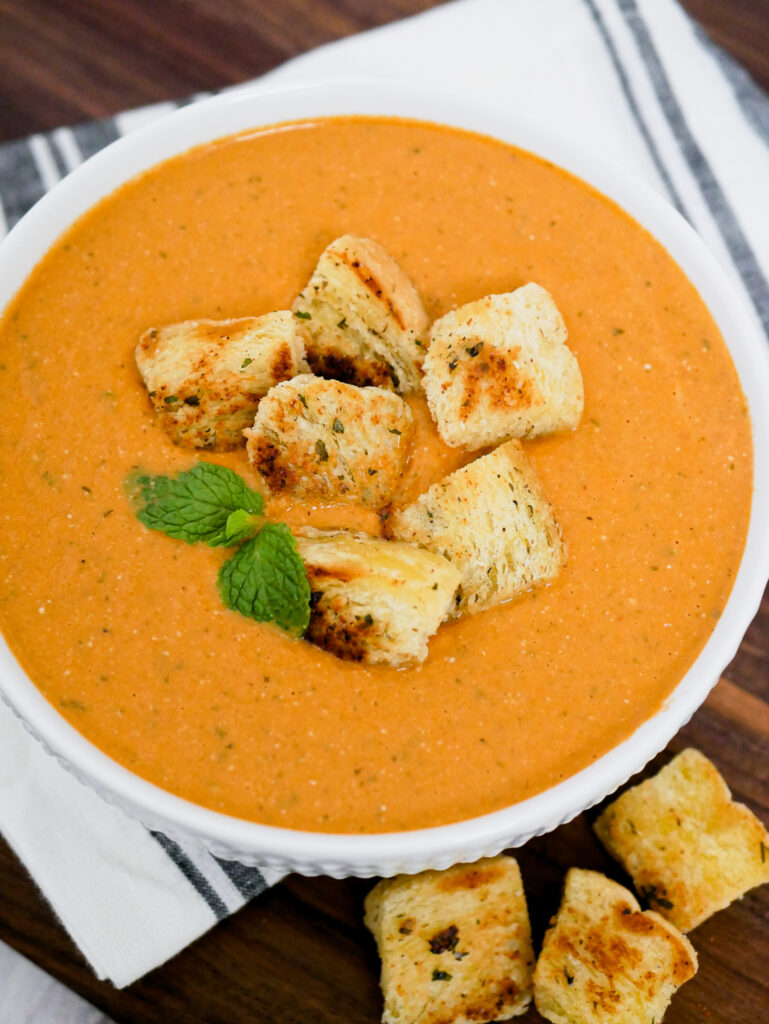 Tuscan Pesto Tomato Soup with Homemade Sourdough Croutons
Ingredients
3 Tablespoons olive oil

2 small onions, diced

3 (14oz) cans petite diced tomatoes, undrained

2 cups chicken stock

2 teaspoons dried parsley

1/2 teaspoon salt

1/4 teaspoon pepper

1/2 cup heavy whipping cream

1 cup basil pesto

SOURDOUGH CROUTONS

4 large, 1-inch thick slices, sourdough bread

1/4 cup butter, melted

1/4 cup olive oil

1 teaspoon dried parsley

1/2 teaspoon kosher salt

1/2 teaspoon oregano

1/2 teaspoon garlic powder

1/4 teaspoon onion powder
Instructions
1
1. Heat olive oil in a large pot over medium-low heat.
2
2. Add diced onions and sauté until soft and translucent.
3
3. Add diced tomatoes, chicken stock, parsley, salt, and pepper. Stir well and then bring to a simmer. Simmer, uncovered, for 15 minutes.
4
4. In the meantime, make homemade croutons. Slice bread into 1-inch cubes. It should be about 8 cups of bread cubes.
5
5. In a medium bowl, whisk together melted butter, olive oil, parsley, kosher salt, oregano, garlic powder, and onion powder.
6
6. Toss the bread cubes in the mixture until they are mostly coated.
7
7. Pour croutons into a frying pan and sauté over medium heat until croutons are golden brown on each side. Set aside.
8
8. Once the soup has simmered for 15 minutes, whisk in the heavy cream and pesto.
9
9. Blend the soup with either an immersion blender or in a blender. If you use a regular blender, you will need to divide the soup and blend it in two batches. Blend the soup until you get the desired consistency that you want.
10
10. Return soup to the pot and heat over low until ready to serve. Serve with croutons.
Notes
Croutons can be baked in the oven. Bake croutons at 350 degrees for 15-20 minutes, or until golden and crisp, turning halfway through.