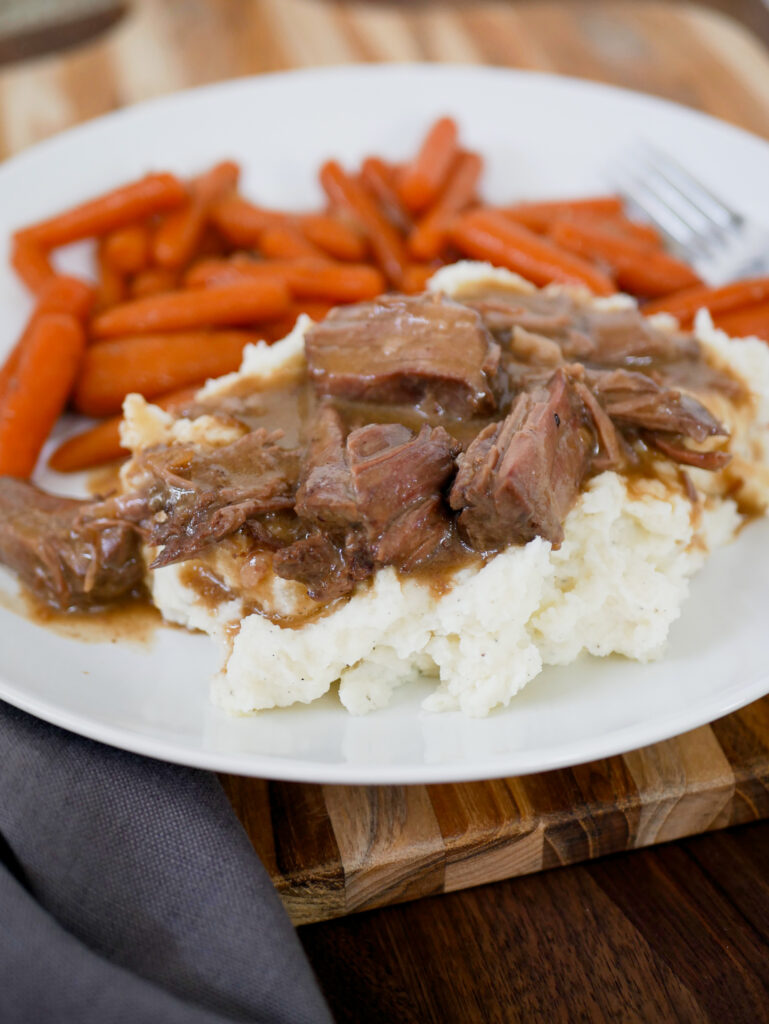 Favorite Pot Roast and Mashed Potatoes
Ingredients
3-4 lb chuck roast

garlic salt

¼ cup vegetable oil

1-1.5 lb thin baby carrots

⅔ cup brown sugar

⅔ cup sour cream

1 envelope dry onion soup mix

2 Tablespoons vinegar

2 Tablespoons soy sauce

2 Tablespoons ketchup

1 Tablespoon worcestershire

¼ teaspoon pepper

10 oz can Campbells Beefy Mushroom condensed soup

32 oz beef stock

¼ cup cornstarch

¼ cup water

MASHED POTATOES

3 lb russet potatoes

⅓ cup butter, or to taste

½ teaspoon salt, or to taste

½ teaspoon pepper, or to taste

1-2 cups half and half (or milk)
Instructions
1
Sprinkle all sides of roast with garlic salt.
2
Heat oil in a large pot over medium-low heat. Carefully place roast in heated oil and sear on each side for 3 minutes. (If oil gets too hot, reduce heat.)
3
Place roast and carrots in crockpot.
4
In a medium bowl, combine brown sugar, sour cream, onion soup mix, vinegar, soy sauce, ketchup, worcestershire, pepper, and beefy mushroom soup. Whisk together until combined.
5
Add beef stock to mixture and carefully whisk together until combined.
6
Pour mixture over roast and carrots.
7
Put the lid on the crockpot and cook on low for 6-8 hours.
8
With about 45 minutes to an hour left of cook time, peel potatoes and dice into 1-inch cubes.
9
Place diced potatoes in a large pot and cover with water so that the water is 1-2 inches over the potatoes. Bring to a boil and boil potatoes until they are fork tender. (Don't over cook so that the potatoes become mush.)
10
Drain potatoes and return to pot.
11
Immediately add butter, salt and pepper. Use a potato masher to mash potatoes, making sure butter melts and is completely incorporated.
12
Add ½ cup half and half or milk. Mash until completely incorporated and potatoes are a little lumpy but creamy. Continue adding more half and half, ¼ of a cup at a time, until you get the perfect texture.
13
Add more salt and pepper to taste if needed. Cover mashed potatoes to keep warm until ready to serve.
14
When pot roast is done cooking, remove carrots to a serving dish and cover to keep warm.
15
Remove roast and shred. Cover with foil to keep warm.
16
Pour themgravy liquid in the crockpot into a medium saucepan. Bring to a boil. In a small bowl, whisk together cornstarch and water. Whisk into boiling gravy. Boil until gravy is thickened, whisking occasionally.
17
Serve roast, carrots, and potatoes warm. I like to put the shredded pot roast and gravy on top of my mashed potatoes and put the carrots on the side.
Notes
The beefy mushroom soup does NOT make this roast taste like mushrooms. My family hates mushrooms but they love this roast, so I do not recommend omitting that ingredient. Also, you can customize the mashed potatoes however you'd like by adding more or less of the butter, salt, pepper, and liquid. I prefer half and half, but milk works great too. I try to avoid using skim milk.