This is one of those really yummy, indulgent dinners that I like to make for my family once a month. These rollups are made with flakey crescent roll dough, then filled with a homemade chicken sauce, and topped with stuffing and gravy. It's comfort food at it best!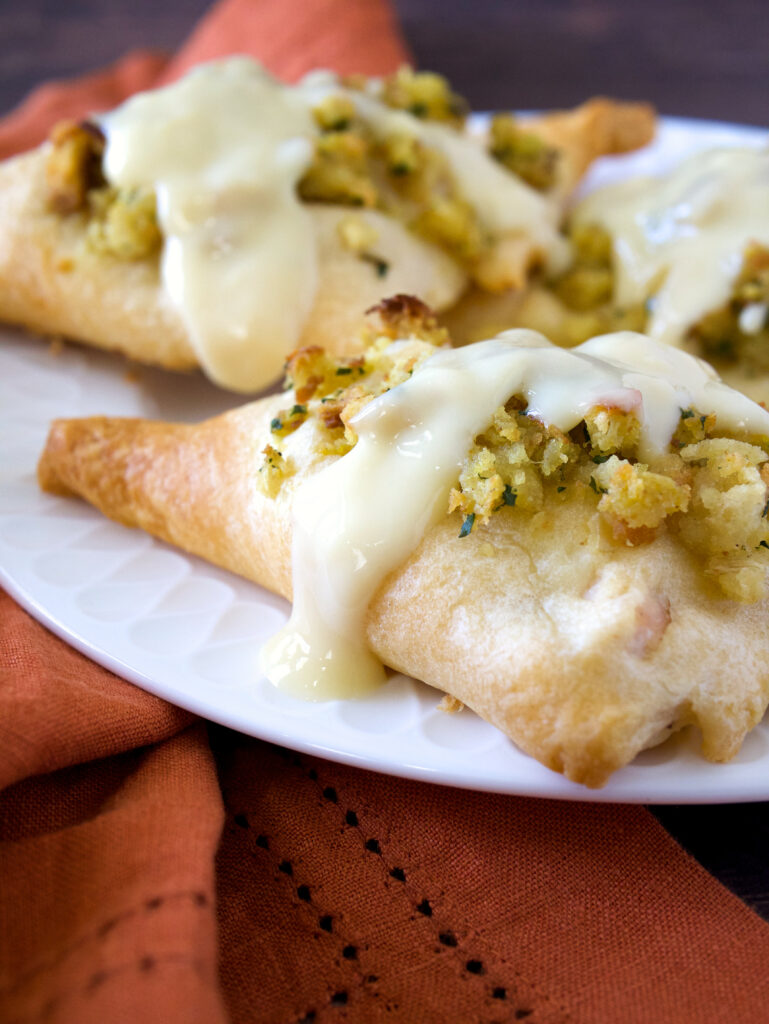 I like to serve this with sides of mashed potatoes and a green veggie. It's so filling and my entire family loves it!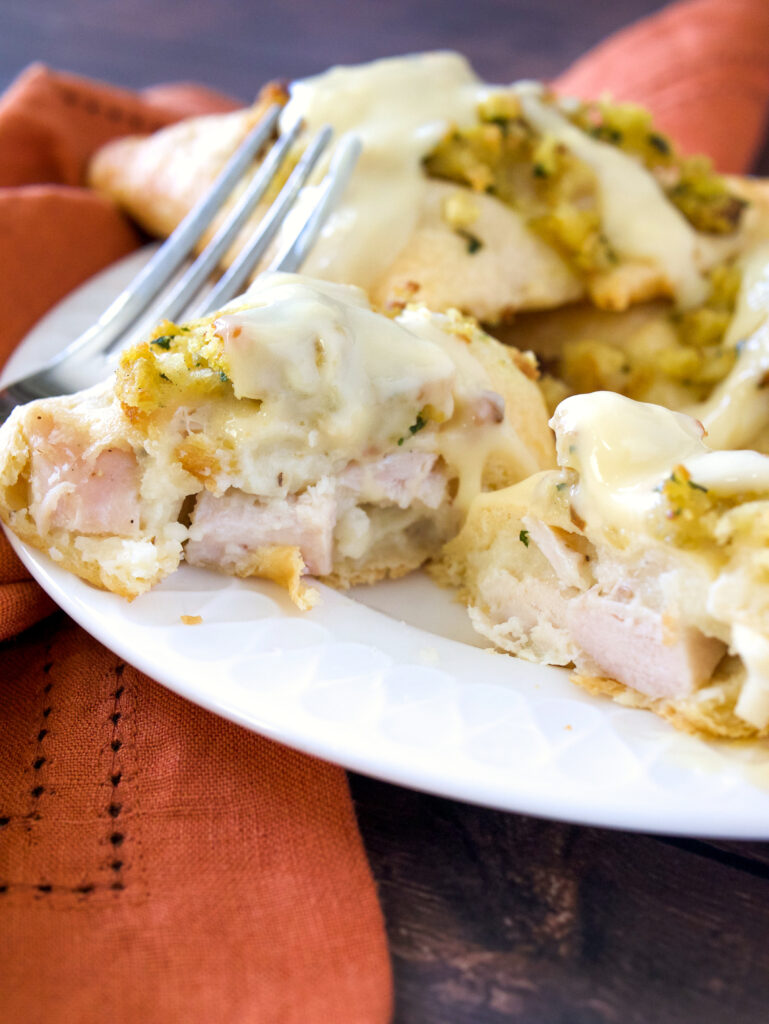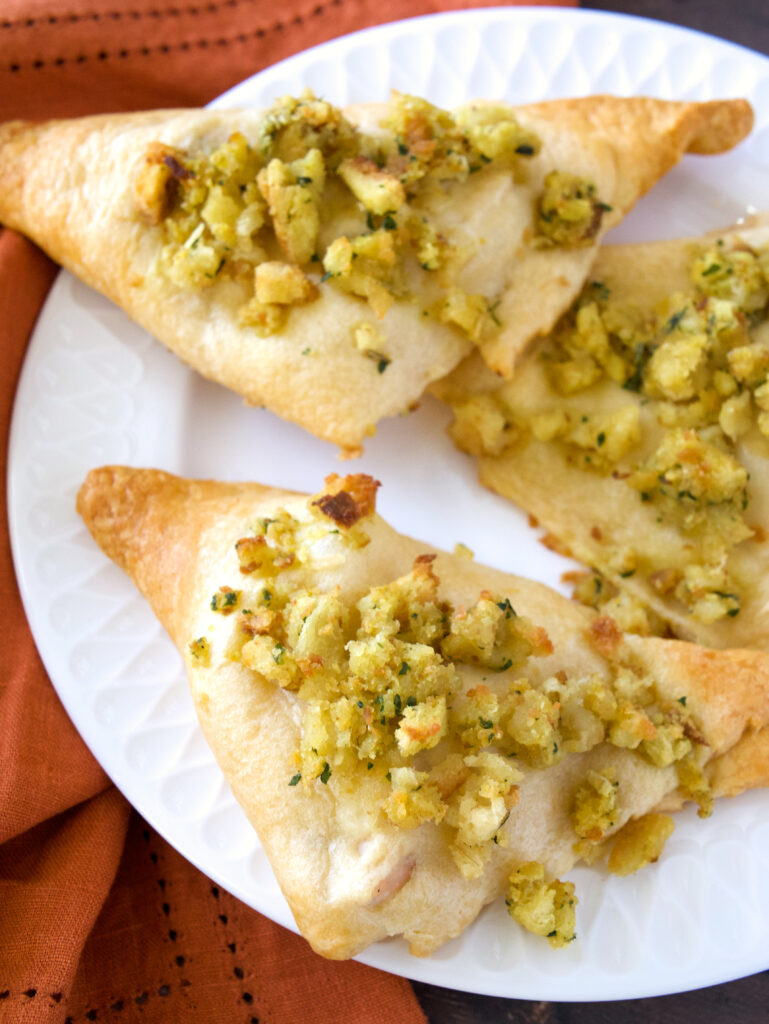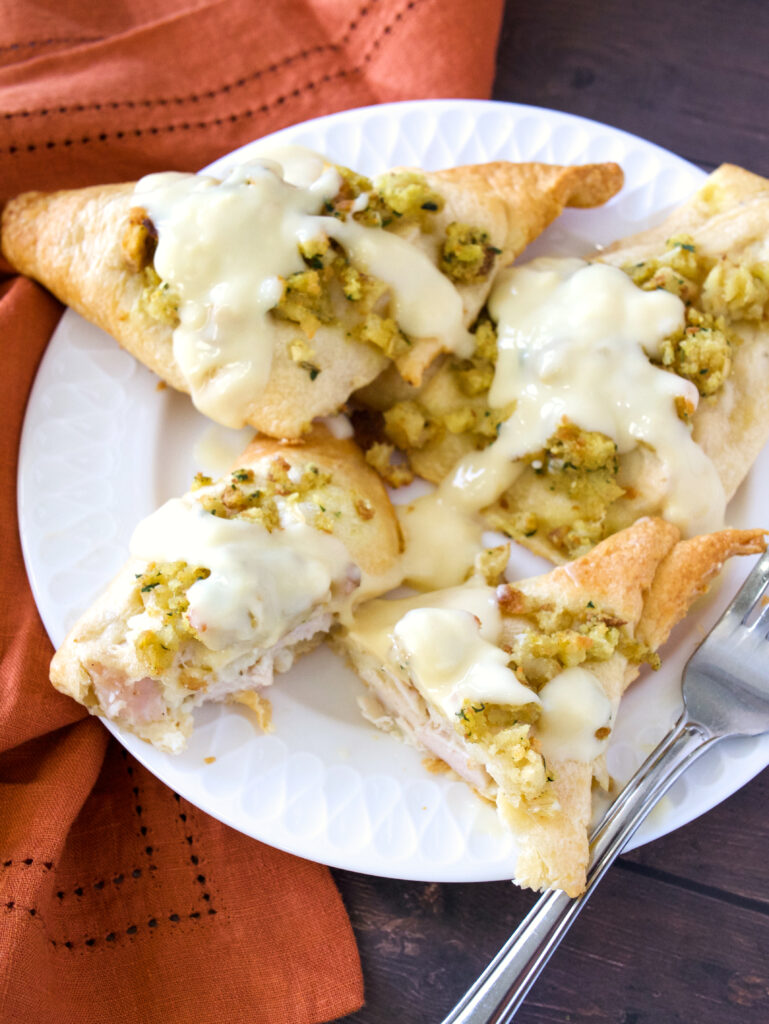 Stuffing Topped Chicken Rollups
Ingredients
1 1/2 lb chicken breasts

1 box Chicken Stovetop Stuffing

1/2 cup butter

1/2 cup flour

1/2 teaspoon salt

1/4 teaspoon pepper

1 1/2 teaspoon Better Than Buillion

1 1/2 cups milk

1/2 cup water

1/2 teaspoon garlic powder

1/2 teaspoon onion powder

2 packages crescent roll dough

2-4 Tablespoons butter, melted

GRAVY

1 can cream of chicken soup

milk
Instructions
1
SALT AND PEPPER CHICKEN. BAKE AT 350 FOR 20-30 MINUTES, DEPENDING ON THE SIZE OF THE CHICKEN, OR UNTIL JUICES RUN CLEAR.
2
DICE CHICKEN INTO SMALL BITES. SET ASIDE.
3
COOK STUFFING ACCORDING TO PACKAGE DIRECTIONS. SET ASIDE.
4
MELT BUTTER OVER MEDIUM-LOW HEAT IN A SAUTE PAN.
5
ADD FLOUR, SALT AND PEPPER. WHISK AND COOK UNTIL BUBBLY. DON'T LET IT START TO BURN.
6
ADD BOULLION, MILK, WATER, GARLIC POWDER AND ONION POWDER.
7
WHISK AND BRING TO A BOIL OVER MEDIUM-LOW. BOIL FOR 1 MINUTE WHILE WHISKING.
9
ROLL OUT CRESCENT DOUGH AND SEPARATE EACH ROLL ON 2 BAKING SHEETS.
10
PRESS DOWN EACH TRIANGLE AND SPREAD TO MAKE AS LARGE OF TRIANGLES AS POSSIBLE WITHOUT RIPPING THE DOUGH.
11
SCOOP ABOUT 2-3 TABLESPOONS OF FILLING ONTO THE MIDDLE OF EACH TRIANGLE. SPREAD OUT SO IT'S COVERING WIDE PART OF THE TRIANGLE, NOT THE CORNERS.
12
TAKE ONE OF THE CORNERS OF THE LONG EDGE OF THE TRIANGLE, AND MATCH IT UP WITH THE OTHER CORNER ON THE LONG EDGE, FOLDING IT OVER TO MAKE A TRIANGLE. PRESS THE SIDES DOWN TO SEAL ALL OF THE EDGES. WIPE AWAY ANY FILLING THAT COMES OUT.
13
LIGHTLY BRUSH THE TOP OF EACH ROLLUP WITH MELTED BUTTER.
14
PAT ABOUT 1 TABLESPOON OF STUFFING ON THE TOP OF EACH ROLLUP.
15
BAKE AT 350 FOR 20-25 MINUTES OR UNTIL DOUGH IS COOKED THROUGH.
17
POUR CREAM OF CHICKEN SOUP INTO A SAUCEPAN. STIR AND ADD MILK UNTIL YOU GET DESIRED THICKNESS.
18
HEAT OVER MEDIUM UNTIL HEATED THROUGH.
Notes
Make sure to dice the chicken into small pieces. If the pieces of chicken are too big, it will make rolling up the rollups bulky and awkward.