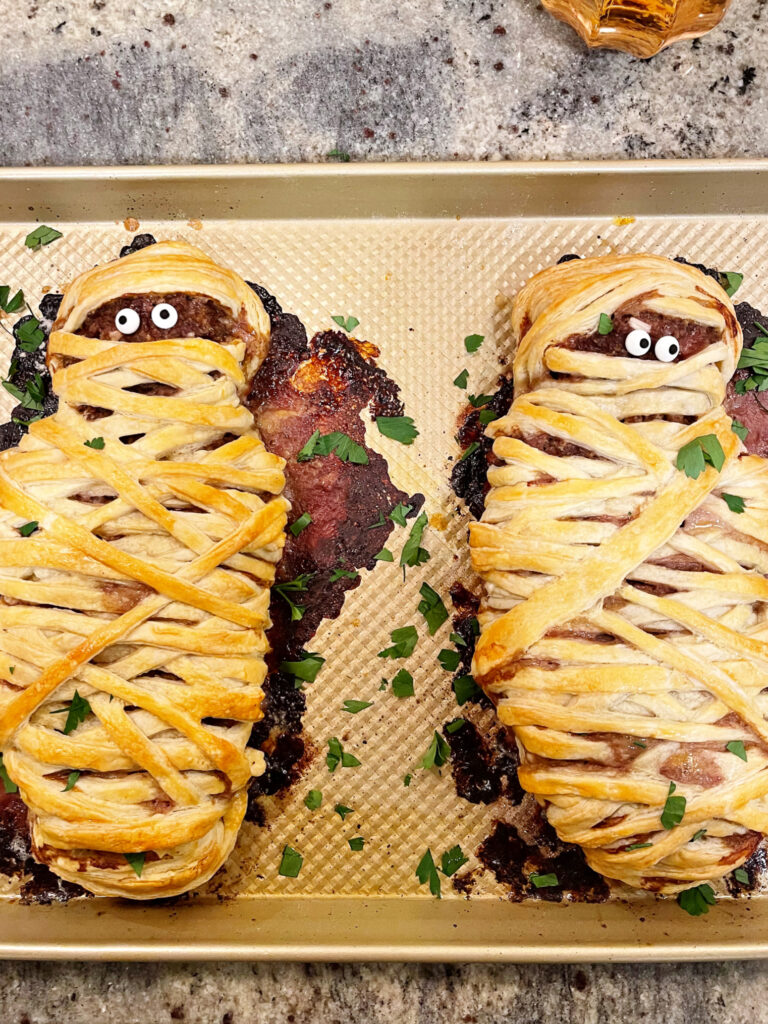 Ingredients
2 sheets frozen puff pastry

2 lb lean ground beef

1/2 medium onion, finely diced

3 medium to large cloves garlic, minced

1 cup panko crumbs

3/4 cup milk

1/4 cup ketchup

2 eggs

2 Tablespoons Worcestershire

1 Tablespoon spicy brown mustard

2 teaspoons dried parsley

1 teaspoon salt

1/2 teaspoon pepper

1 egg + 1 Tablespoon water for egg wash

4 candy eyes

DIPPING SAUCE

1/2 cup ketchup

1/4 cup brown sugar

1 Tablespoon red wine vinegar
Instructions
1
Set puff pastry out to thaw according to package directions.
2
Preheat oven to 350 degrees.
3
In a large bowl, combine beef, onion, garlic, panko, milk, ketchup, eggs, Worcestershire, mustard, parsley, salt, and pepper.
4
Mix well, just until combined.
5
Roll out both puff pastry sheets into 12x12 inch squares.
6
Set rolled out puff pastry sheets on a piece of parchment paper that will fit the size of a cookie sheet.
7
Cut both sheets into 1/2 inch horizontal strips.
8
Take half of the meat mixture and place it on the middle of one of the sliced puff pastry sheets. Form it into the shape of a mummy.
9
Take the puff pastry strips on each side and wrap them around the mummy, leaving an opening for the mummy's eyes.
10
Repeat with the remaining meat mixture and puff pastry sheet.
11
Make sure mummies are a few inches apart from each other. Lift the parchment onto a cookie sheet.
12
Whisk egg and water together. Brush the puff pastry on both mummies with the egg wash.
13
Bake uncovered for 1 hour or until cooked through and puff pastry is golden brown.
14
In the meantime, make the dipping sauce by whisking the ketchup, brown sugar, and red wine vinegar together in a small bowl.
15
Remove baked mummies from oven and put candy eyes on both of them.
16
Serve warm with dipping sauce.
Notes
This recipe makes 2 mummies. This recipe can be halved to make 1 mummy. One mummy should feed about 3-4 adults.