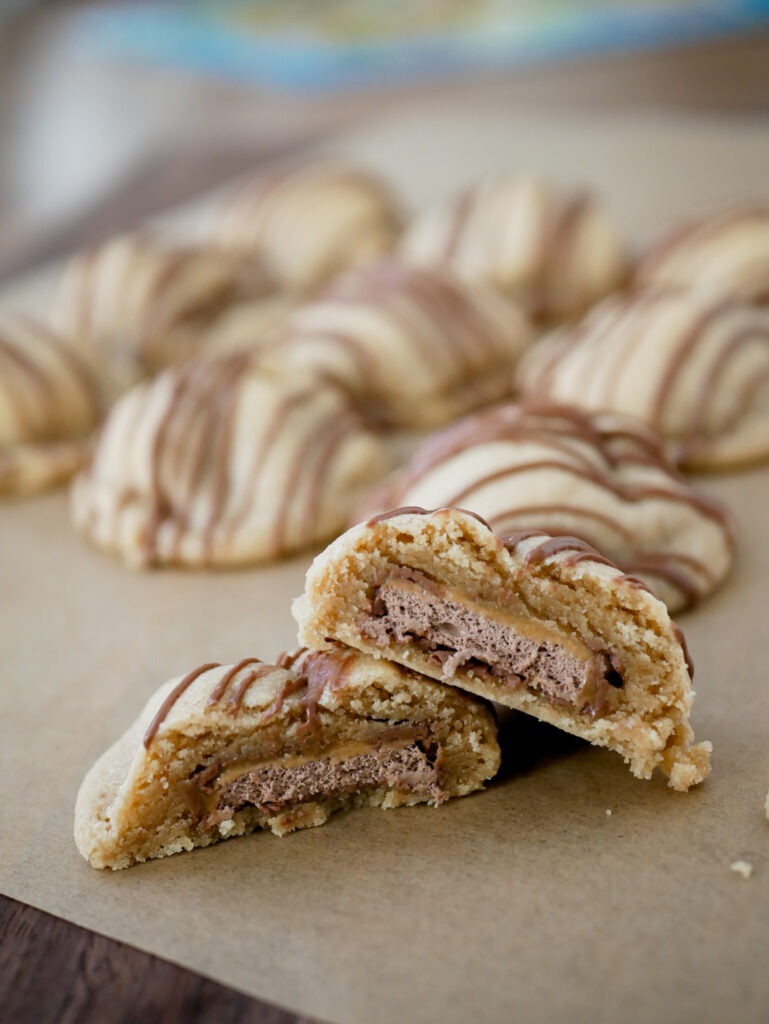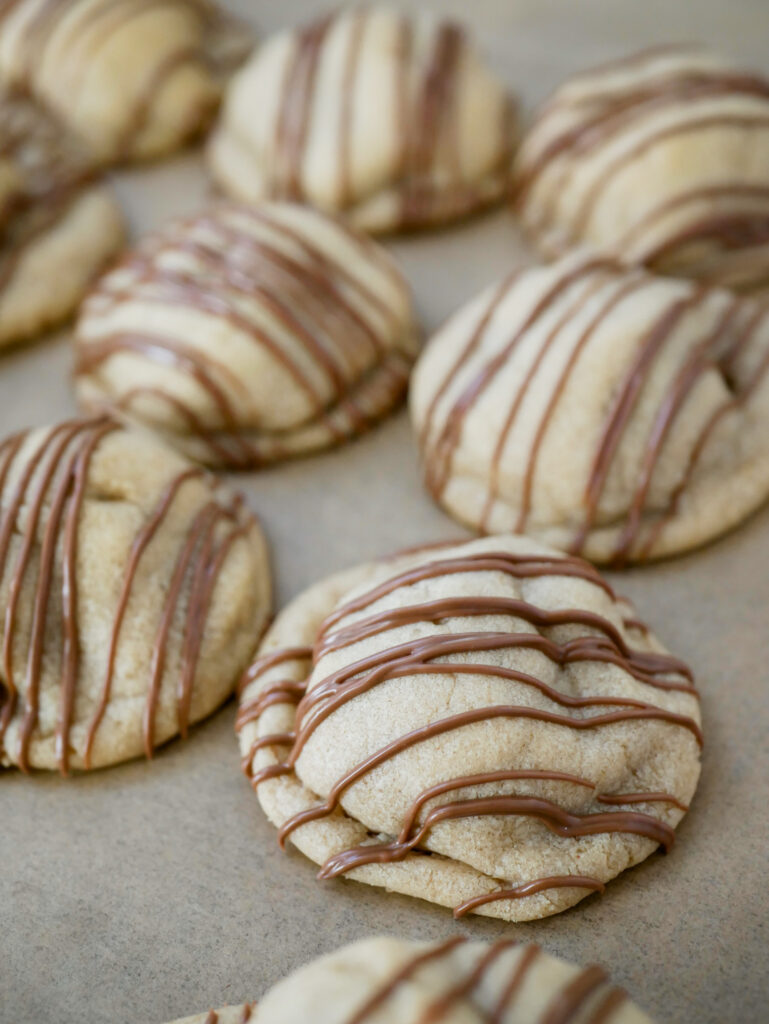 Milky Way Peanut Butter Cookies
Ingredients
2 bags bite size Milky Way candy bars (you won't use all of the second bag, but you'll need more than 1 bag)

1 cup butter

1 cup sugar

1 cup brown sugar

1 cup creamy peanut butter

2 eggs

2 teaspoons vanilla

3 cups flour

1 teaspoon baking soda

1 teaspoon baking powder

CHOCOLATE DRIZZLE

1 cup chocolate chips (I like using milk chocolate)

1 Tablespoon shortening
Instructions
1
1. Unwrap abut 40 Milky Ways and set aside.
2
2. Preheat oven to 350 degrees.
3
3. Cream butter, sugar, and brown sugar together.
4
4. Add peanut butter, eggs, and vanilla. Mix until smooth.
5
5. Add flour, baking soda, and baking powder. Mix just until combined.
6
6. Scoop out a cookie. Press your thumb into it to make a well. Place a Milky Way in the well and then completely wrap cookie dough around Milky Way.
7
7. Continue with remaining cookie dough. Place 12 cookies on a cookie sheet.
8
8. For extra soft cookies, double stack your cookie sheets. This will keep the bottoms from baking faster than the rest of the cookies.
9
9. If using double stacked cookie sheets, bake for 12 minutes. If using a single cookie sheet, bake 10 minutes.
10
10. Lay a large piece of parchment paper on your countertop. When cookies are done baking and are firm enough to move, transfer them to the parchment paper to finish cooling. This will help keep cleanup easy and fast when you drizzle the cookies,
11
11. To make the drizzle, combine the chocolate chips and shortening in a glass bowl. Microwave in 30 second intervals, stirring between each, until chocolate is smooth.
12
12. Pour melted chocolate into a ziplock bag. Snip off a tiny corner. Drizzle cooled cookies. Let set up.
13
13. Store cookies in an airtight container.
Notes
DO NOT replace milky ways with another candy bar like snickers. I've tried it and the texture isn't right. I'm not a Milky Way fan, but they are perfect in these cookies! Also, you can do more than one chocolate drizzle on these cookies. You can add a white chocolate or semi-sweet chocolate drizzle. Just follow the same instructions above.