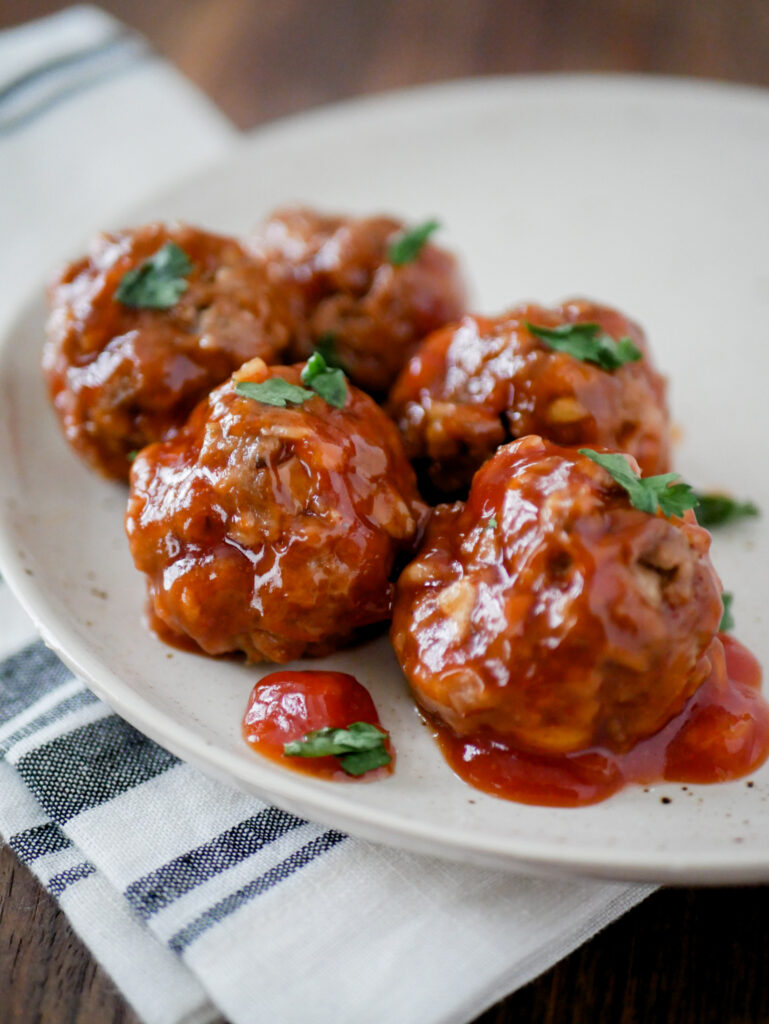 Ingredients
3 lb. ground beef

2 eggs

1 cup old fashioned oats

1 cup crushed saltine crackers

4 cloves garlic, minced

1/2 cup finely chopped onions

2 teaspoons salt

1 teaspoon pepper

1/4 teaspoon oregano

1/4 teaspoon onion powder

1/4 teaspoon paprika

dash of cayenne, or to taste

1/4 cup Worcestershire

2 Tablespoons mustard (I like to use Spicy Brown Mustard)

BBQ SAUCE

3 cups ketchup

1 cup brown sugar

1/2 cup honey

1/4 cup finely minced onions

1/2 teaspoon garlic powder

1/2 teaspoon liquid smoke
Instructions
1
1. Preheat oven to 350 degrees.
2
2. In a large bowl, combine all meatball ingredients except for Worcestershire and mustard. With your hands, lightly mix together.
3
3. Add Worcestershire and mustard. Use your hands to mix the meat mixture together really well so that all ingredients are completely combined.
4
4. Line a cookie sheet with foil. Scoop out meatballs, roll into balls, and place on cookie sheet. (I use a cookie scoop that's about 2 Tablespoons to scoop them out. I get 53 meatballs.) Place closely together on cookie sheet, but not touching.
5
5. Bake for 30-35 minutes or until completely cooked through.
6
6. Meanwhile, in a medium bowl, combine all BBQ Sauce ingredients. Whisk together until combined. Cover and refrigerate.
7
7. Refrigerate meatballs after they are done baking until you are ready to heat them up and serve them.
8
8. To heat and serve- Pour meatballs into a crockpot. Pour sauce on top and stir until meatballs are coated. Heat on high for about 1 hour or until meatballs are warmed through, then set crockpot to low to serve. Serve warm.
Notes
After meatballs are baked, they can be frozen and heated in the crockpot from frozen. Heat them for 1 1/2-2 hours on high or until meatballs are warmed through before setting crockpot to low for serving.