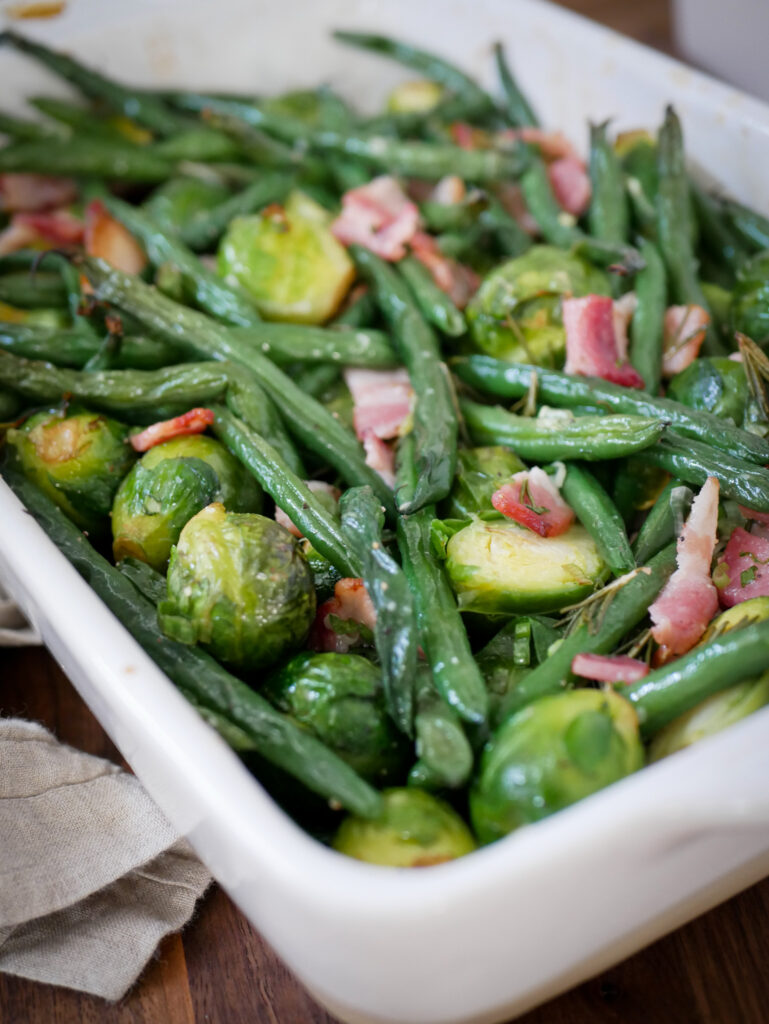 Rosemary Roasted Vegetables
Ingredients
1.5 lbs brussels sprouts

1 lb fresh green beans

8 strips bacon

1 bunch green onions

4-6 sprigs fresh rosemary

2 Tablespoons olive oil

1/2 teaspoon pepper

1 teaspoon kosher salt

half of a fresh lemon
Instructions
1
1. Preheat oven to 425 degrees.
2
2. Fill a large pot up with 2 inches of water. Bring to a boil. Lightly salt the water.
3
3. Wash brussels sprouts and green beans. Trim ends of green beans and slice large brussels sprouts in half so they are more bite sized.
4
4. Boil brussels sprouts for 3 minutes. Add green beans and boil for an additional 5 minutes. Drain and pour veggies into a 9x13 baking dish.
5
5. Meanwhile, line a baking sheet with foil. Place bacon on baking sheet and bake until bacon is partially cooked, about half way. Slice partially baked bacon into 1-inch pieces.
6
6. Thinly slice green onions. Add bacon and green onions to the Brussels sprouts and green beans.
7
7. Remove rosemary leaves from the stems and add to veggies.
8
8. Drizzle olive oil, pepper and salt over veggies. Toss well so that everything is coated.
9
9. Bake uncovered for 20 minutes.
10
10. Squeeze desired amount of lemon juice over baked veggies. Toss together and serve warm.