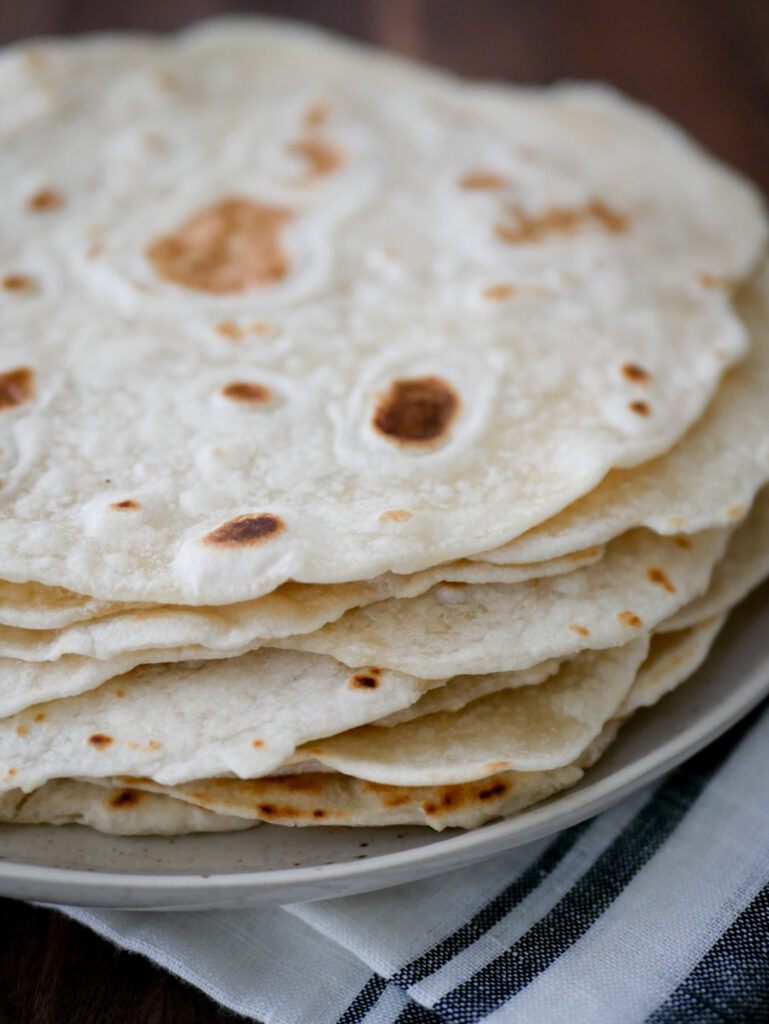 Ingredients
3 cups flour

1 teaspoon salt

1/3 cup shortening

1 1/4 cups hot water
Instructions
1
1. Pour flour and salt into the bowl of a stand mixer. Mix until combined.
2
2. Add shortening. Mix until little lumps form.
3
3. While the mixer is turned on to low, slowly pour in hot water. Mix just until combined. Don't over mix.
4
4. Once dough is completely mixed, take dough out of the bowl and form it into a loaf. Cut it down the center lengthwise and then cut it widthwise 3-4 times making 8-12 even rectangles, depending on how big you want your tortillas.
5
5. Preheat a large, nonstick frying pan to medium-low heat. Do not spray with cooking spray.
6
6. Take each portion of dough and lightly roll it into a ball.
7
7. Spray your work surface with non-stick cooking spray if needed but do not add more flour. Roll each ball of dough out into a flat circle to desired thickness. (I like to roll them out thin).
8
8. Place a tortilla in the frying pan and let it cook until large, slow bubbles start to form or until golden brown spots form. It may take one or two tortillas to find the right temperature. Flip tortilla over and cook for about an additional 30-45 seconds. Tortillas should have light golden spots on each side.
Notes
To store- cool tortillas and store in a ziplock bag in refrigerator.