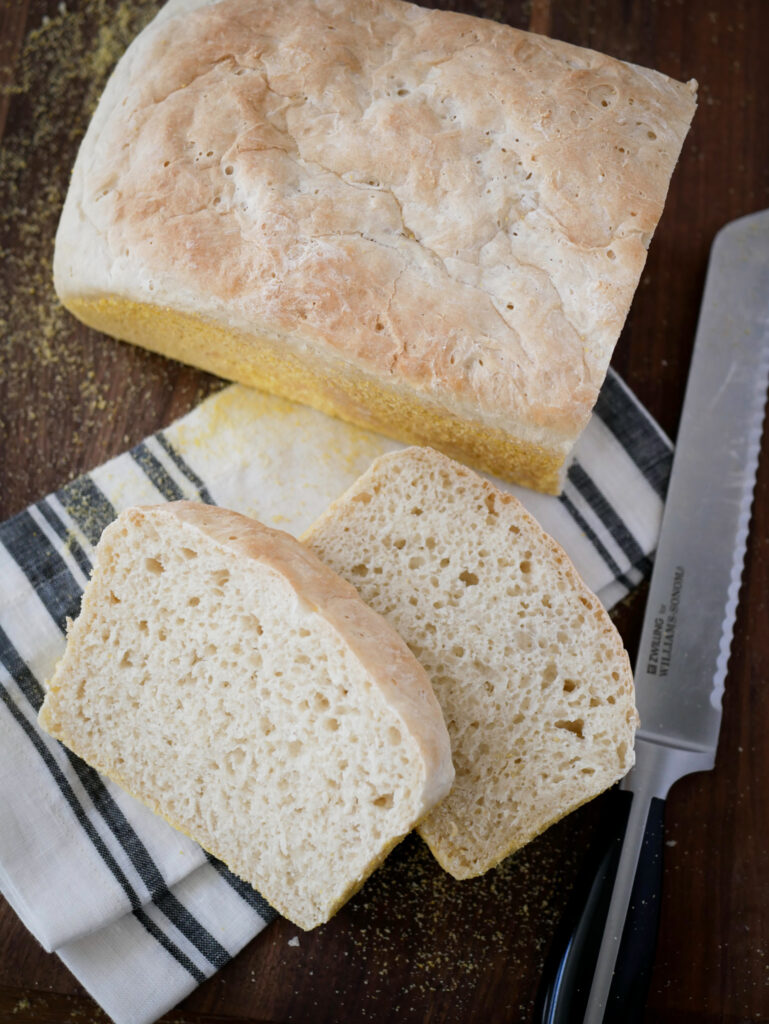 Ingredients
3 cups warm water

1 1/2 Tablespoons rapid rise yeast (2 packets)

1 Tablespoon sugar

6 cups flour

1/4 cup sugar

1 Tablespoon salt

cornmeal
Instructions
1
1. Pour warm water into the bowl of a mixer. Sprinkle yeast and then 1 Tablespoon sugar on top. Give the mixture a gentle stir.
2
2. Let sit 5 minutes, until bubbles come to the top.
3
3. Meanwhile, spray two bread pans with non-stick cooking spray. Pour about 1/4 cup of cornmeal into each pan. Shake pans around to completely coat the bottom and sides with cornmeal. Set aside.
4
4. Once yeast mixture has sat for 5 minutes, add flour, 1/4 cup sugar, and salt. Using the paddle attachment, mix until dough is completely combined. Dough should be sticky.
5
5. Divide dough in half and put 1/2 into each prepared bread pan.
6
6. Cover pans with a clean towel. Let rise in a warm place until bread doubles in size, about 1 hour.
7
7. Preheat oven to 350 degrees. Bake both loaves on middle rack for 30 minutes.
Notes
Spray hands really well with non-stick cooking spray to divide dough and put into bread pans. This will help keep the dough from sticking to your hands.