It's that time of year, Fall is in the air and I'm starting all of my favorite Fall baking. It's the BEST time of year! My kitchen is full of the yummy smells of of Fall- nutmeg, cinnamon, pumpkin- and it makes me so happy!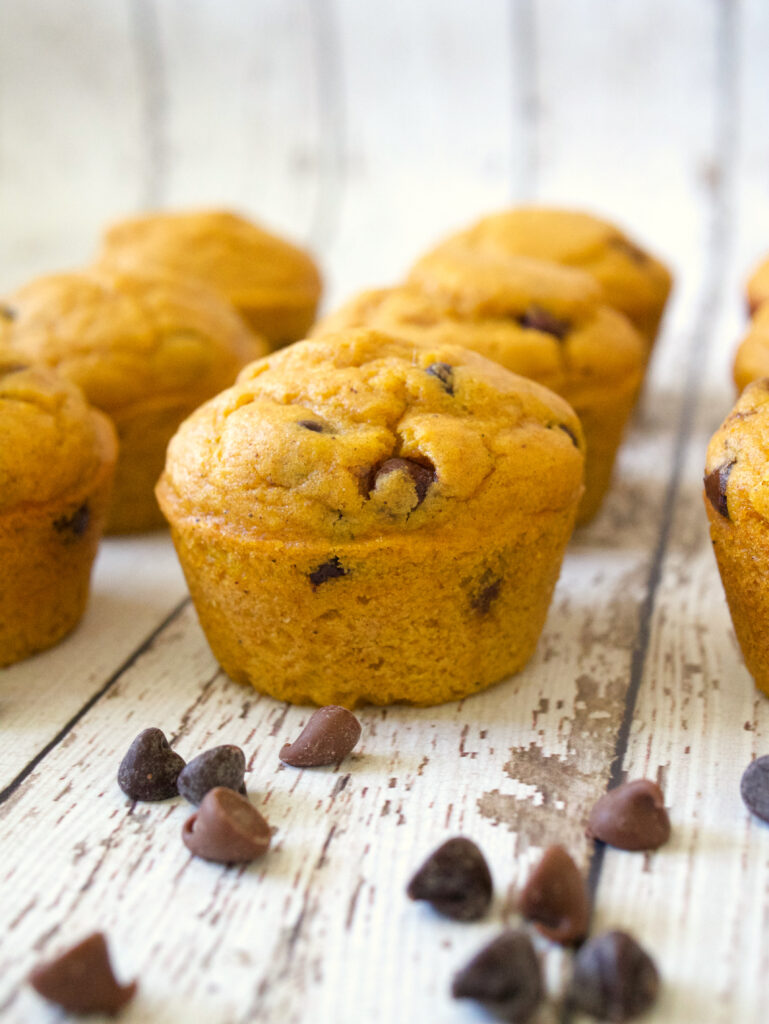 These muffins are the perfect treat to start off the season. They are so soft and moist and full of flavor. My secret to making anything with chocolate chips taste AMAZING is by doing a combination of milk chocolate and semi-sweet chocolate chips. I know people usually prefer one over the other, but trust me, the combo is what makes the difference. We use the combo in all of our desserts that call for chocolate chips at Crust Club because it's just so much better!
So make a batch and eat these muffins all day long! I guess you could technically call them a dessert, but since they are muffins, you can totally feel good about eating them for breakfast. 😉
Ingredients
3/4 cup sugar

1/4 cup brown sugar

1/2 cup vegetable oil

1 cup milk

15 oz can pumpkin puree

2 eggs

2 teaspoons vanilla

1 1/2 teaspoons nutmeg

1 1/2 teaspoons cinnamon

1/2 teaspoon salt

2 cups flour

1 Tablespoon baking powder

1/2 cups milk chocolate chips

1/2 cups semi-sweet chocolate chips
Instructions
1
Preheat oven to 350 degrees.
2
Spray two muffin pans with non-stick cooking spray. You should use 21 of the 24 cups.
3
In a large bowl, combine all ingredients except for flour, baking powder, and chocolate chips.
4
Whisk together until just combined.
5
Add flour and baking powder. Mix until almost combined. There should still be some flour visible.
6
Add chocolate chips and mix until just combined.
7
Fill greased muffin cups 3/4 full. You should get about 21 muffins.
8
Bake at 350 for 28-32 minutes.
Notes
You can use all milk or semi-sweet chocolate chips instead of doing a 1/2 cup of each. HOWEVER, I always do both because it tastes the best!