One of my favorite things to do, especially in the Fall, is to get up early on a Saturday or Sunday morning, and bake this Coffee Cake before anyone wakes up. The house is quiet and peaceful and it's pure bliss baking in the quiet hours of the morning. The best part is the warm, delicious cinnamon smell that fills my house as my family starts to wake up.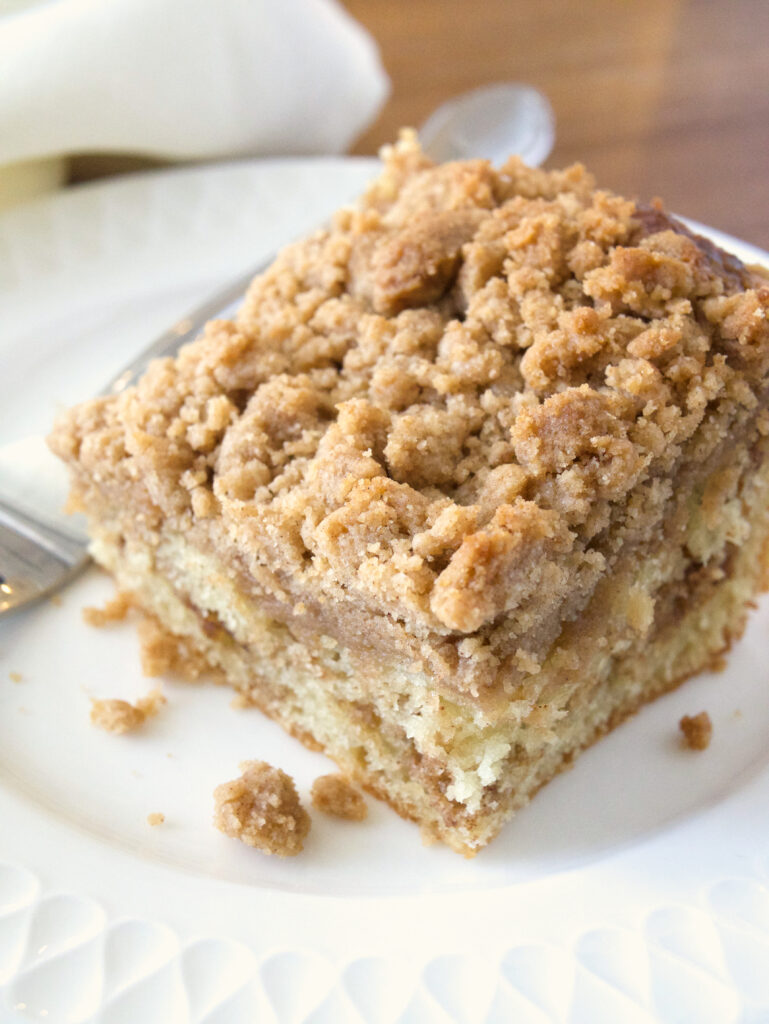 This Coffee Cake is basically dessert, but it's so yummy that it's totally worth the splurge for breakfast. My kids love to eat it as a snack when they get home for school. We basically eat it all day long! 🙂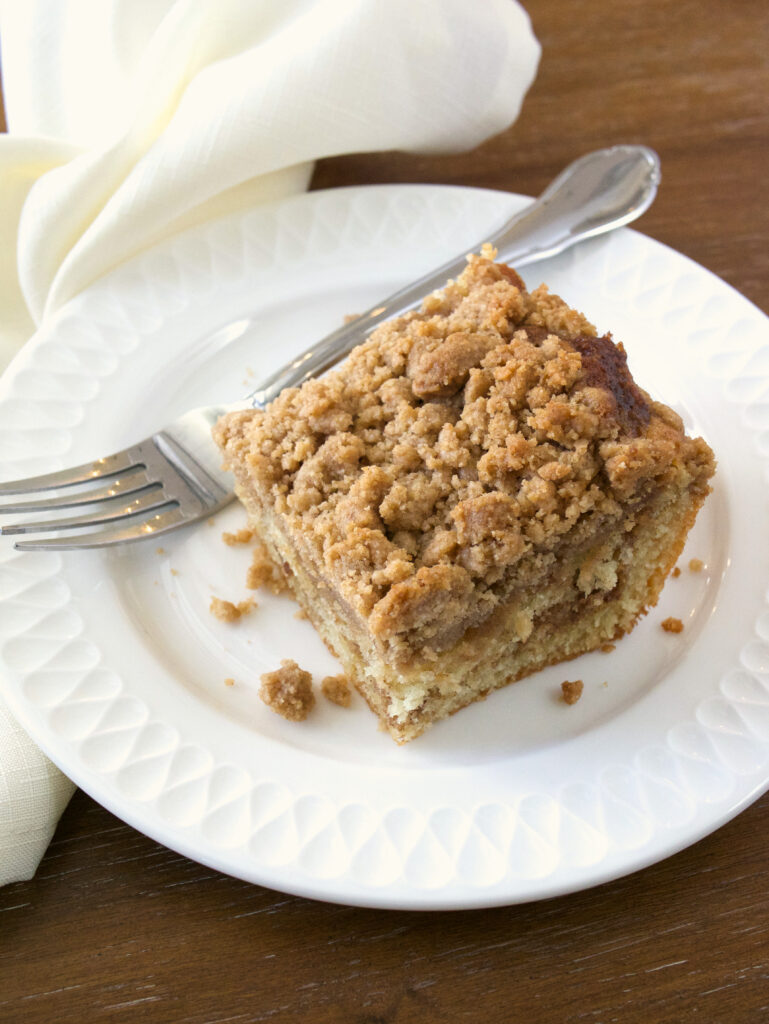 Ingredients
BROWN SUGAR SPRINKLE

1/4 cup brown sugar

1/2 teaspoon cinnamon

TOPPING (see notes below)

1 cup flour

3/4 cup brown sugar

1/2 cup butter, COLD

1 teaspoon cinnamon

CAKE

3/4 cup milk

2 teaspoons vinegar

1 1/2 cups flour

3/4 cup sugar

1 teaspoon baking powder

1/2 teaspoon baking soda

1/2 teaspoon salt

1 egg

2 teaspoons vanilla

1/4 cup butter, melted
Instructions
1
Preheat oven to 350 degrees.
2
In a small bowl, mix together brown sugar and cinnamon for the Sprinkle. Set aside.
3
Pour all Topping ingredients in a medium bowl. Use a pastry cutter to mix and cut cold butter into pea size crumbles. Use your hands to squeeze all ingredients together until completely combined and almost paste-like, in a big, somewhat crumbly ball. Set aside. (OR you can put all Topping ingredients into the bowl of a stand mixer and beat with a paddle attachment until a ball is formed.) Set aside.
4
For the Cake, measure milk in a glass liquid measuring cup. Add vinegar and stir. Set aside while you mix the rest of the cake ingredients.
5
In a large bowl, combine flour, sugar, baking powder, baking soda, and salt. Whisk together. Make a well in the middle of the mixture.
6
Add egg, vanilla, and milk and vinegar mixture, into the well. Whisk all ingredients together until just almost combined.
7
Add melted butter, and whisk until just combined and smooth.
8
Spray an 8x8 or 9x9 inch pan with non-stick cooking spray.
9
Pour 2/3 of the cake batter into the pan. Spread evenly over the bottom.
10
Evenly sprinkle the Sprinkle on top.
11
Pour the remaining cake batter on top. Using a butter knife, carefully spread the batter over the sprinkle until it is completely covered. Use the knife to lightly swirl the cake batter and sprinkle together, in a back and forth swirl.
12
Crumble the Topping mixture over the cake until completely covered.
13
Bake about 40 minutes or until a toothpick inserted in the middle comes out mostly clean.
Notes
1. If you don't prefer a think crumble top and would like more cake, half the Topping recipe. I usually half it because I like more cake than crumble. 2. If you don't have a pastry cutter or stand mixer, you can use knifes to cut the cold butter into the flour and brown sugar for the Topping.