Some of my favorite recipes have come from my mother-in-law and this is one of them. This is probably my favorite salad recipe of all-time and it's always my go-to when I need to make a salad to take somewhere.
Not only is this a great salad to take to get-togethers, but I like making it for my family for dinner.
The original recipe does not call for bowtie pasta. You can definitely make it with out. I like to add it in to make this salad more filling and hearty, especially if this is the main meal that I'm feeding my family.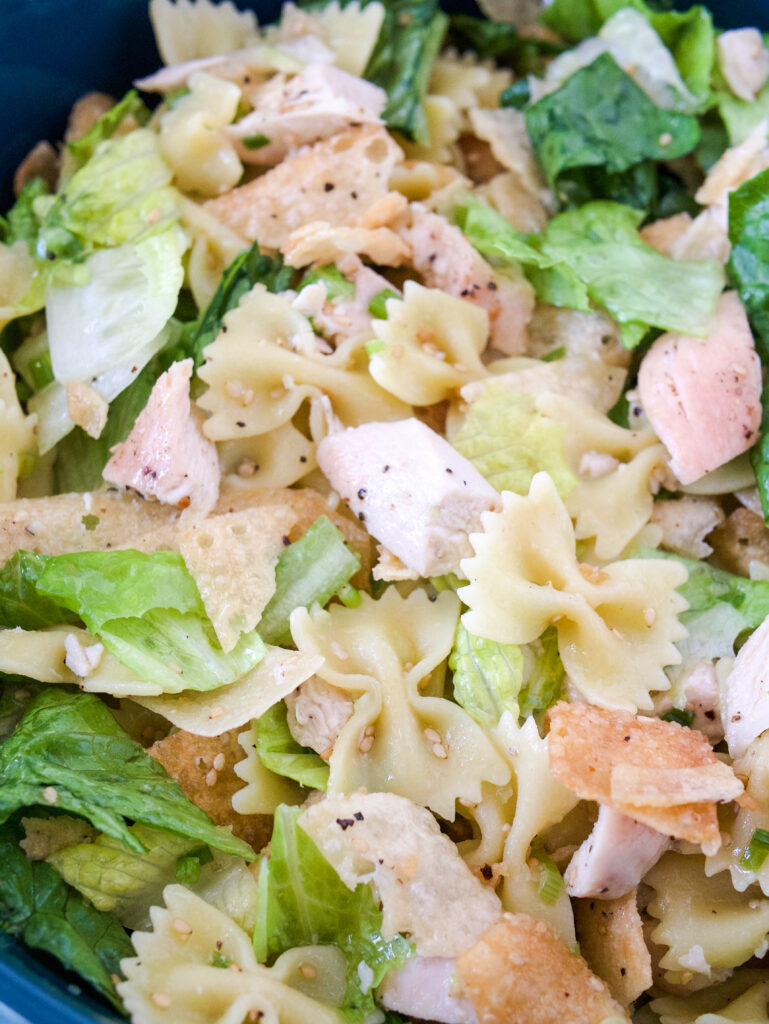 This is the perfect salad for baby showers, bridal showers, family get-togethers, etc.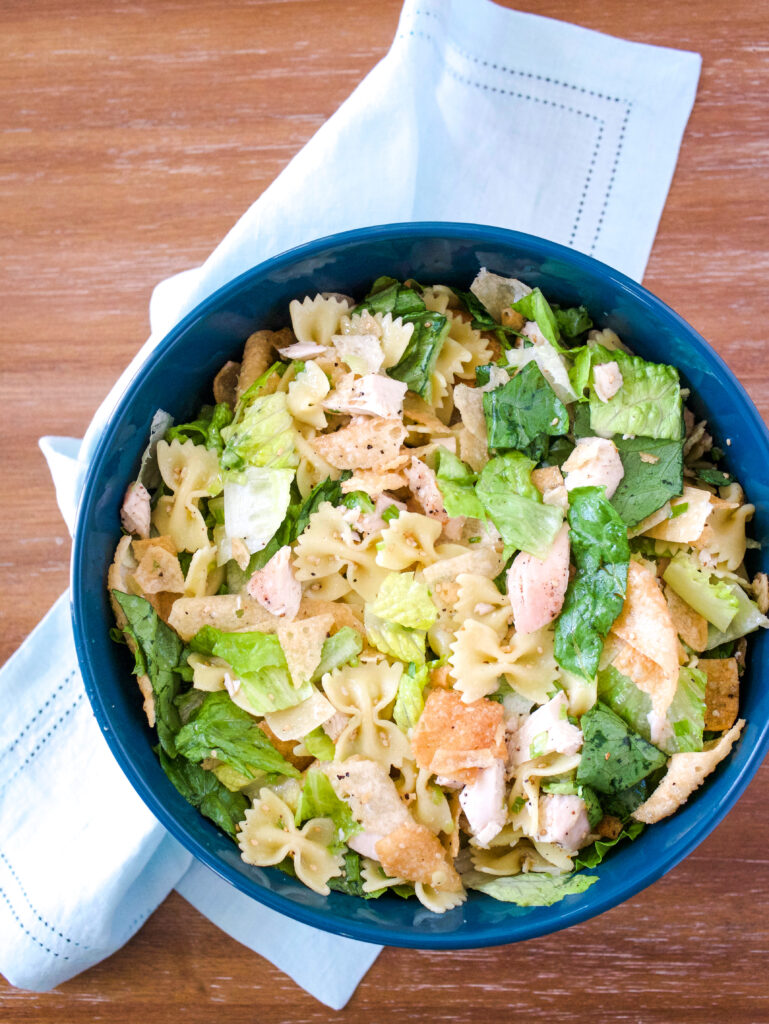 Chinese Chicken Tossed Salad
Ingredients
1 lb chicken breasts

10-12oz farfalle pasta (optional, I use about 3/4 of a 1 pound box)

6-8oz wonton squares (I use about 1/2-3/4 of a 12oz package)

canola oil for frying

1 head romaine lettuce

6 stalks green onions, thinly sliced

2 Tablespoons toasted sesame seeds

DRESSING

1/2 cup canola oil

2 Tablespoons sesame oil

6 Tablespoons vinegar

1/4 cup sugar

2 teaspoons salt

1 teaspoon pepper
Instructions
1
Preheat oven to 400 degrees. Place raw chicken on a cookie sheet. Sprinkle with salt and pepper. Bake for about 25-40 minutes (depending on size of chicken) or until chicken is baked through. Let rest for about 5 minutes and then shred or dice. Set aside.
2
In the meantime, if you are adding the farfalle pasta, cook according to package directions. Drain and set aside.
3
Fill a saucepan up to 1 inch, with canola oil. Heat over medium-high heat.
4
Slice wonton squares into 4 strips, about 1/2 inch wide.
5
When oil is heated, carefully place a few strips into the oil, not overlapping. Wontons should immediately start to bubble and cook. If they don't, your oil is not hot enough. Carefully cook in oil until strips are bubbly and cooked through, and barely starting to turn golden on the edges. Wontons will cook really quick if your oil is super hot. Using tongs or a slotted spoon, remove to a paper towel to cool and drain. (Make sure to remove wontons before they turn golden, they will continue to cook once removed from the oil.) Repeat until all wonton strips are cooked. If wontons start browning too quickly, turn down heat to medium or medium-low.
6
Wash and dry lettuce and shred. Set aside.
7
Pour cooked pasta, diced chicken, sliced green onions, and toasted sesame seeds into a large bowl.
8
Pour all dressing ingredients into a shaker bottle or large glass measuring cup. Shake or whisk dressing until combined and sugar dissolves.
9
Pour about 1/4 cup of dressing over the pasta and chicken mixture. Stir to combine.
10
When ready to serve add lettuce and wontons, reserving some wontons to garnish on top. Drizzle with dressing and toss until coated. Garnish with reserved wontons. Serve immediately.
Notes
1. Toasted sesame seeds can be found at the grocery store on the asian isle. You can also use regular sesame seeds and toast them in a pan over the stove or use them un-toasted. 2. Add wontons at the very end so they stay crunchy. 3. This makes a big salad, perfect for a crowd when serving with other items. Half the recipe if you are making it for dinner for 4-6 people. Maybe just make some extra wontons if you are making half a recipe, everyone always likes extra wontons.