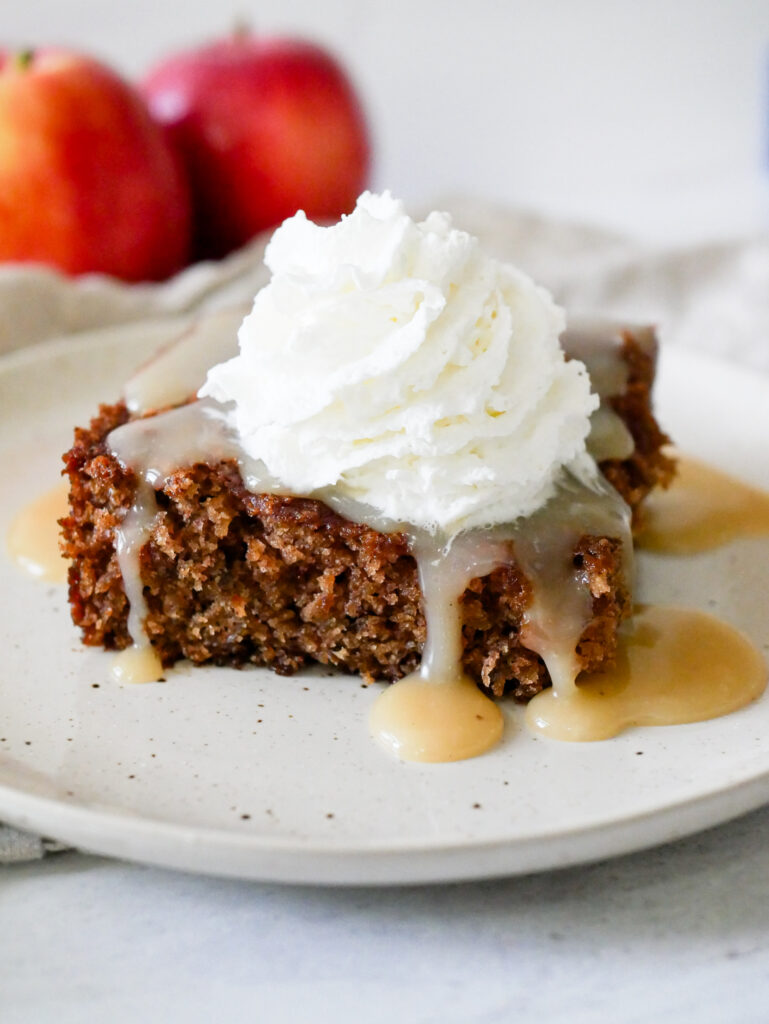 Ingredients
2 large apples, un-peeled and shredded

1/4 cup butter, softened

1 cup sugar

1 egg

1 cup flour

1 teaspoon baking soda

1 teaspoon cinnamon

1/2 teaspoon nutmeg

1/4 teaspoon salt

1/2 cup chopped pecans or walnuts (optional)

EASY CARAMEL SAUCE

1/2 cup butter

1 1/2 cups sugar

3/4 cup evaporated milk

1 teaspoon vanilla

1/8 teaspoon nutmeg
Instructions
1
Preheat oven to 350 degrees. Spray an 8x8 or 9x9 inch pan with non-stick cooking spray. Set aside.
2
Using a grater, grate apples all the way until you reach the core of the apples. Set shredded apples aside.
3
In a medium mixing bowl, combine softened butter and 1 cup sugar. Cream together with a hand mixer.
4
Add egg and beat until combined.
5
Add shredded apples and mix until combined.
6
Add flour, baking soda, cinnamon, nutmeg, and salt. Mix until completely combined.
8
Pour mixture into prepared baking dish and spread evenly into the dish.
9
Bake for 40-45 minutes or until a toothpick inserted in the middle comes out clean.
10
Meanwhile, make caramel sauce by combining butter, sugar, and evaporated milk in a medium saucepan.
11
Heat over medium heat while whisking frequently for 15 minutes. Do not let mixture boil. If it starts to bubble up, turn heat down to medium-low or low.
12
Remove from heat and whisk in vanilla and nutmeg.
13
Serve cake warm with caramel sauce and whipped cream.
Notes
This recipe can be doubled and baked in a 9x13 inch pan. Bake for 45-50 minutes or until a toothpick comes out clean. The caramel sauce recipe makes a lot so you might not need to double it.