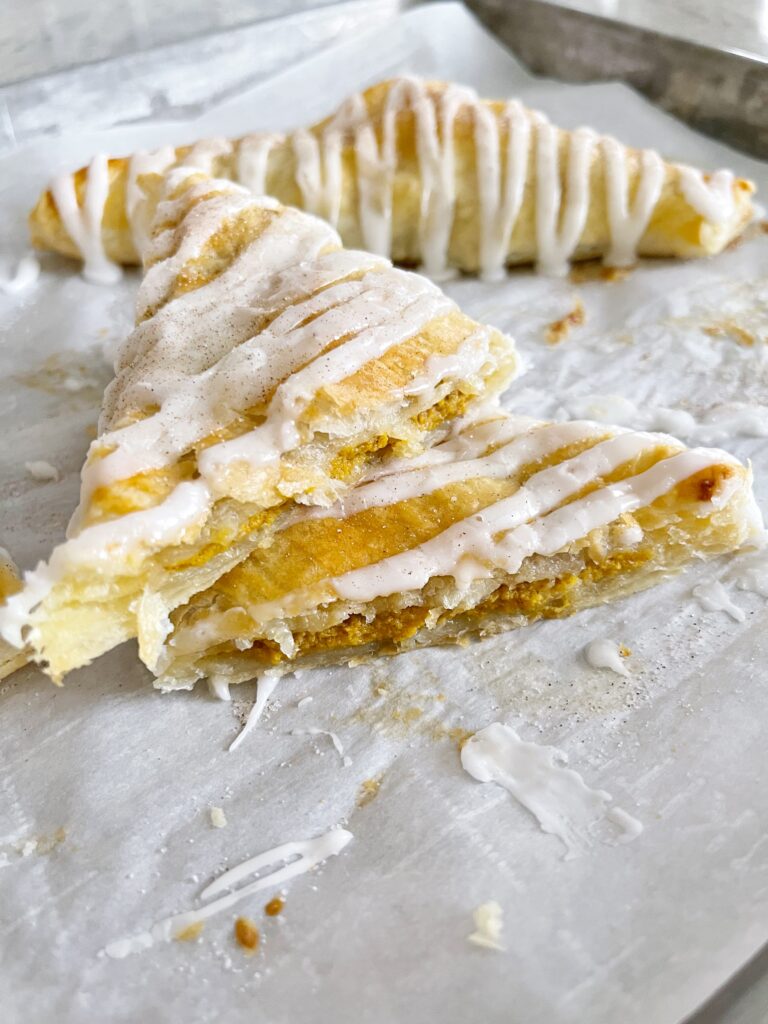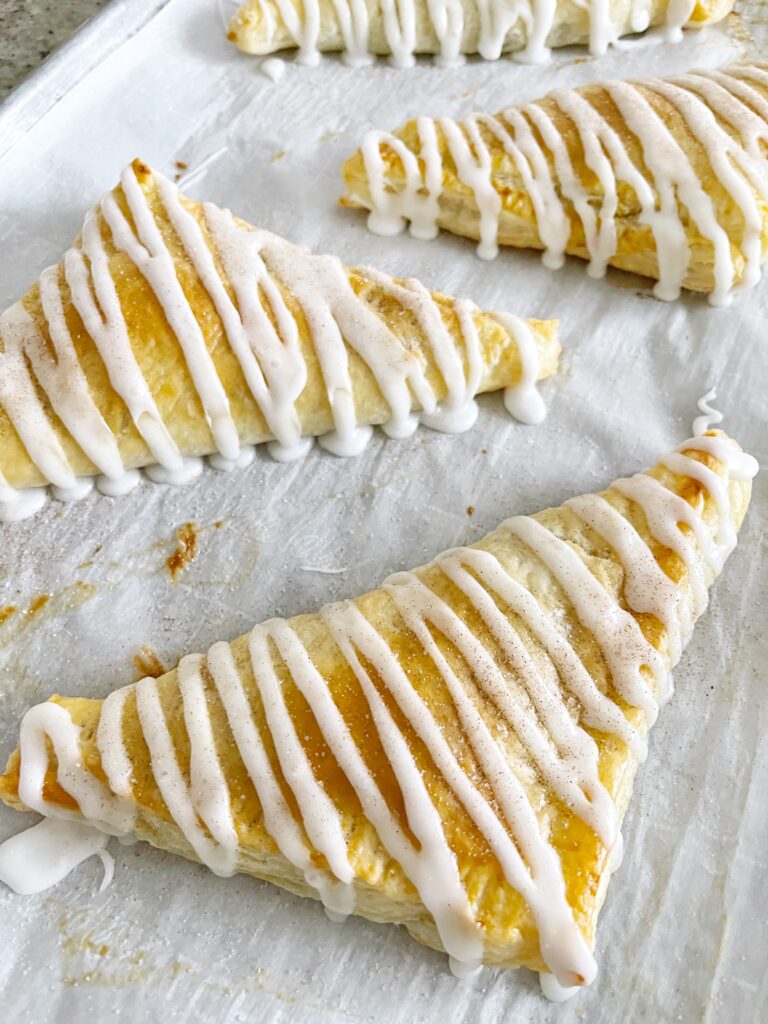 Ingredients
PUMPKIN FILLING

15oz can pumpkin puree

1 ½ cups Half & Half (or a 12oz can evaporated milk)

¾ cup sugar

2 eggs

1 teaspoon cinnamon

½ teaspoon salt

½ teaspoon nutmeg

½ teaspoon ginger

¼ teaspoon cloves

TURNOVERS

3 puff pastry sheets

1 egg + 1 Tablespoon water

2 cups powdered sugar

3 Tablespoons water

Cinnamon-sugar for dusting (optional)
Instructions
2
Combine all pumpkin filling ingredients in a medium bowl. Whisk together until smooth.
3
Spray either a deep pie pan, an 8x8, or a 9x9 inch pan with non-stick cooking spray. Pour batter into the pan.
4
Bake 15 minutes at 425. Decrease the oven temperature to 350 and bake another 45-60 minutes or just until the middle of the filling isn't jiggly. Let filling cool.
5
Thaw puff pastry according to package instructions.
6
Set oven temperature to 400. Line two baking sheets with parchment paper.
7
Whisk together egg and water in a small bowl to make an egg wash.
8
Roll out each puff pastry sheet into a 13x13 inch square. Cut each sheet into 4 even squares.
9
Place ¼ cup of the pumpkin filling in the corner of each square, leaving a ½ inch border around the edges.
10
Brush egg wash around all 4 edges of one of the squares. Fold the top corner over the filling to create a triangle. Press the edges together. Place the turnover on one of the cookie sheets. Press the tongs of a fork around the 2 edges of the turnover to seal them together.
11
Repeat with remaining filling and puff pastry squares.
12
Brush the top of each turnover with the egg wash.
13
Bake for 15 minutes or until the puff pastry is nice and golden.
14
Remove from the oven and let cool for about 10 minutes.
15
Meanwhile, make the glaze by whisking together the powdered sugar and water in a small bowl. Pour the glaze into a small plastic baggie. Cut a small tip off of one of the bottom corners of the bag. Drizzle each turnover with glaze. Lightly sprinkle the tops with cinnamon-sugar.