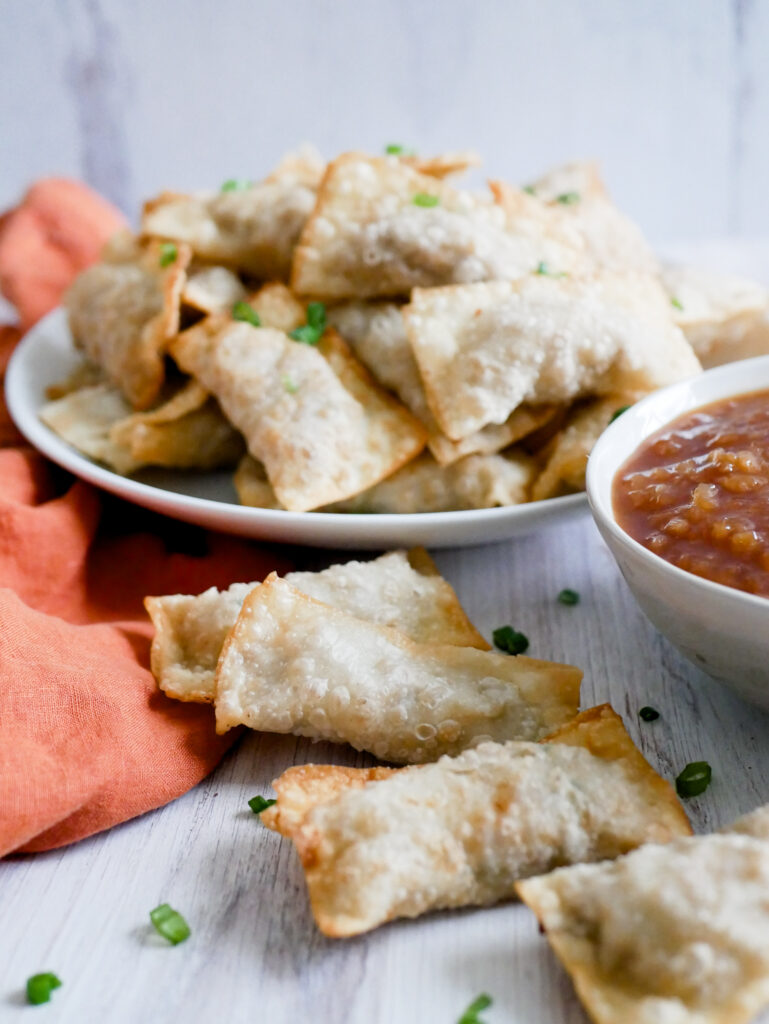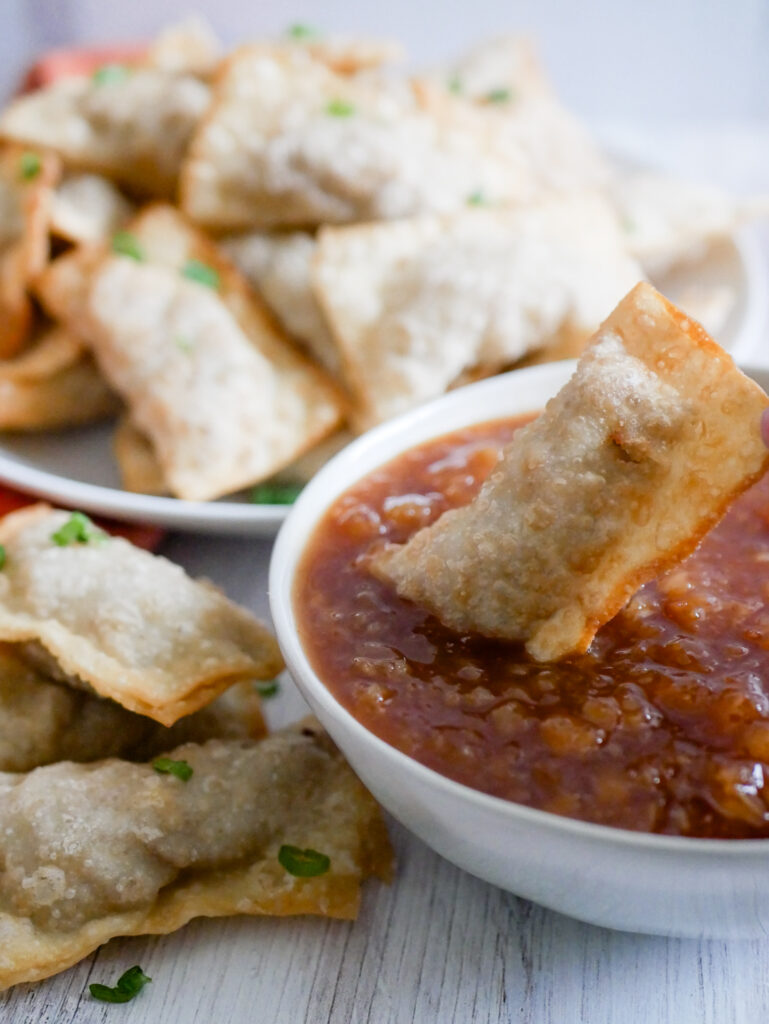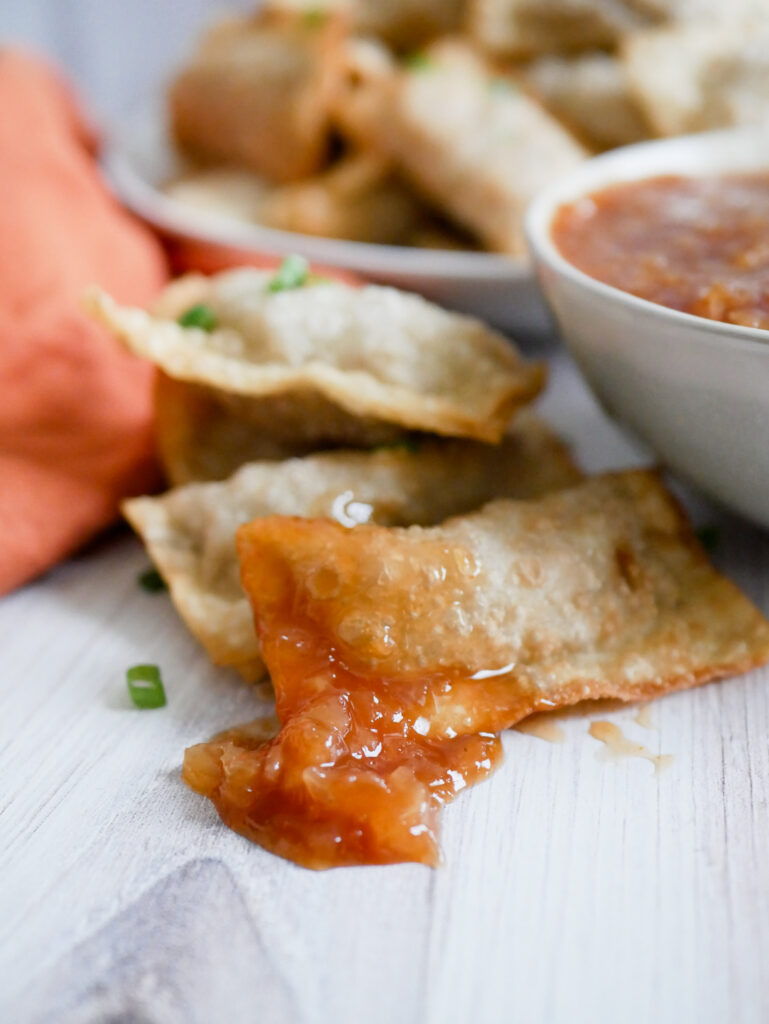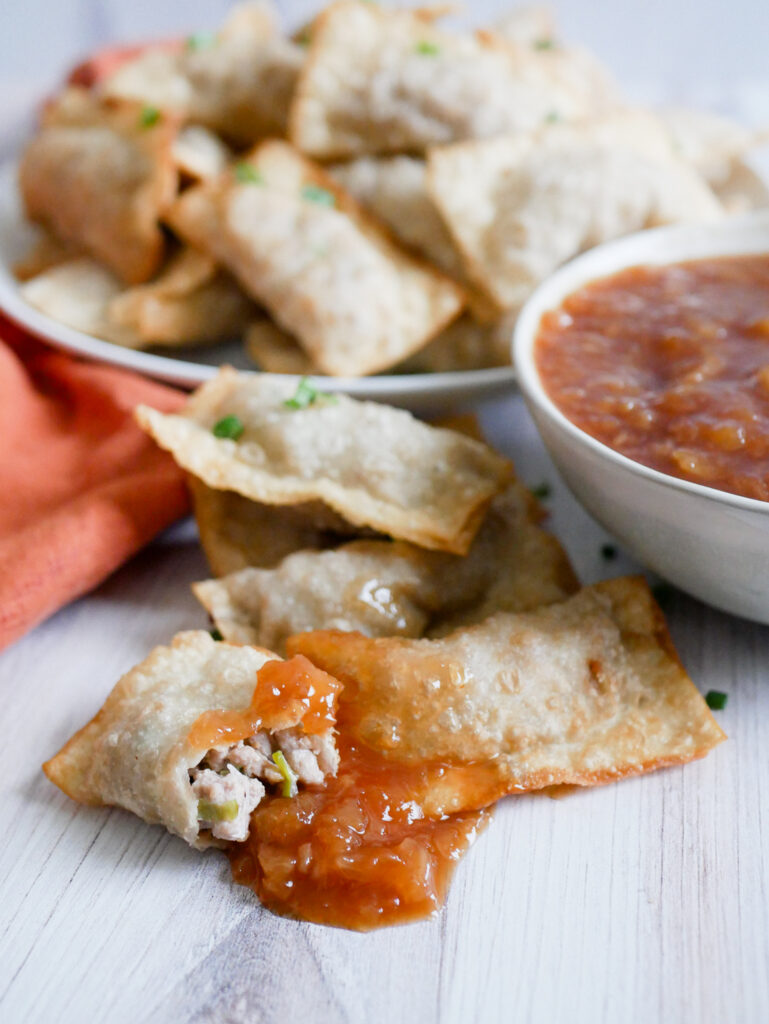 Pork Wontons with Pineapple Sweet and Sour Sauce
Ingredients
PINEAPPLE SWEET AND SOUR SAUCE

1 cup brown sugar

1 Tablespoon cornstarch

20 oz can crushed pineapple, drained

1/4 cup vinegar

1/4 cup water

1/4 cup ketchup

1/2 Tablespoon soy sauce

PORK WONTONS

1.5 lb ground pork

1 Tablespoon vegetable oil

1 egg

1/4 cup soy sauce

2 Tablespoons vinegar

2 Tablespoons sugar

1/2 teaspoon garlic powder

4 green onions, thinly sliced

8 oz can chopped water chestnuts, drained

14 oz package wonton wrappers (should be about 50 wrappers)

4 cups canola or vegetable oil for frying
Instructions
1
To make sweet and sour sauce, whisk together brown sugar and cornstarch in a medium saucepan.
2
Add crushed pineapple, vinegar, water, ketchup, and soy sauce.
3
Bring to a boil over medium-high heat, stirring frequently. Reduce heat and simmer 5 minutes.
4
Let cool and transfer to a serving bowl before serving.
5
To make wontons, heat vegetable oil in a large sauté pan over medium heat. Add ground pork and cook until meat is almost cooked all the way through.
6
When almost done, move all of the pork to the sides of the pan so that there is a hole in the middle.
7
Crack the egg into the hole and fry. When it's mostly cooked, scramble the egg into the pork.
8
Add soy sauce, vinegar, sugar, and garlic powder. Mix well.
9
Stir in sliced green onions and water chestnuts. Remove from heat.
10
Pour 4 cups of vegetable or canola oil into a medium/large pot. Heat over medium heat.
11
In the meantime, assemble wontons. Place 1 Tablespoon of pork filling in the middle of a wonton wrapper. Have small bowl of water next to you. Wet your finger and run it around all of the edges of the inside of the wonton wrapper. Fold the wonton wrapper in half over the filling. Pinch the sides together until they are completely sealed.
12
Set aside and continue with remaining wonton wrappers and filling.
13
Once wontons are assembled, fry them in the heated oil. Have a paper towel lined plate next to the stove. Place 4-5 wontons in the oil. The oil should bubble and sizzle. Let them fry on one side for about 30 seconds to a minute, and then flip over. Continue frying until wontons are starting to get lightly golden. Don't let them turn too dark golden, they will continue cooking once removed from the oil. Turn the heat down if the oil gets too hot and cooks the wontons too quickly. Remove cooked wontons to the paper towel lined plate to drain. Continue with remaining wontons.
14
Serve the wontons warm with the sweet and sour sauce.