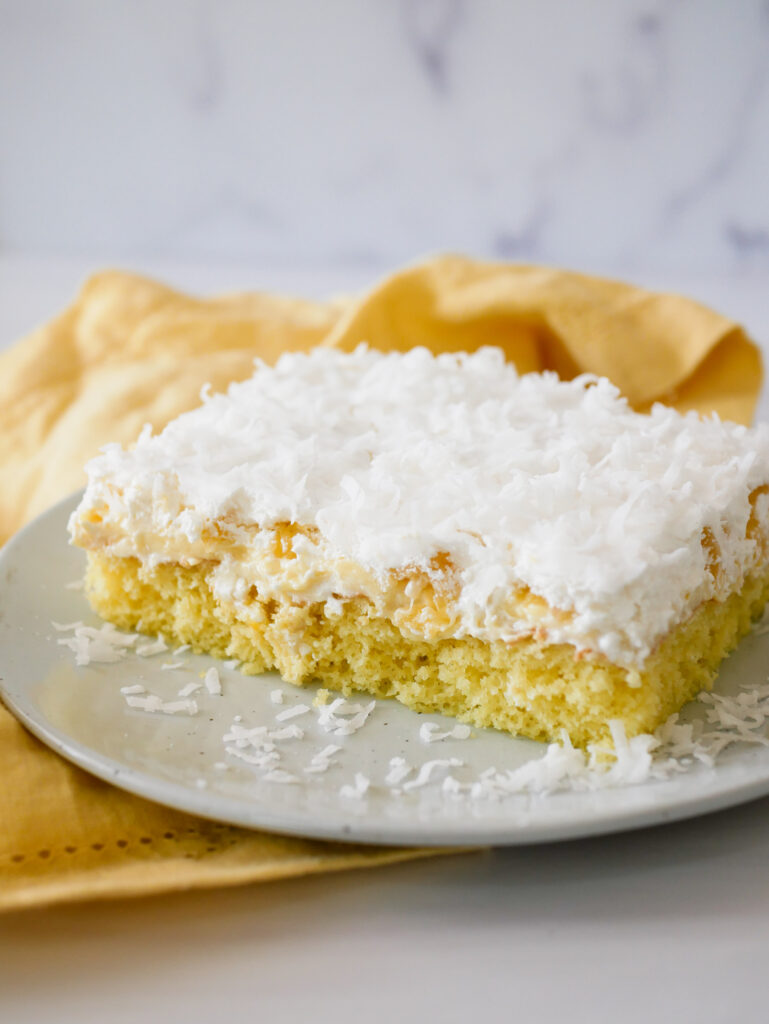 Lemon Pineapple Sheet Cake
Ingredients
1 lemon cake mix

8oz cream cheese, softened

5.1oz box instant vanilla pudding

2 cups milk

20oz can crushed pineapple, drained extremely well

16oz cool whip, completely thawed in the refrigerator

sweetened shredded coconut
Instructions
1
Preheat oven to 350 degrees and spray a rimmed half sheet baking sheet with non-stick cooking spray.
2
Make cake mix according to package directions and pour into prepared baking sheet. Bake for about 12 minutes or until a toothpick comes out clean.
3
Let cake cool completely. I like to freeze the cake to help prevent the top from tearing apart as you frost it.
4
In a medium bowl, beat cream cheese until smooth. Add vanilla pudding mix and milk. Whisk or beat together until smooth and thick. Carefully spread evenly over the top of the cake.
5
Drain and dry the pineapple. After I drain the pineapple, like to either squeeze the pineapple to get extra juice out or let it dry on a paper towel to remove extra juice. If the pineapple is not dried well, it can make your cake soggy.
6
Sprinkle pineapple over the top of the cake.
7
Carefully spread cool whip over the top of the cake, making sure to keep the pineapple covered.
8
Sprinkle the top of the cake generously with coconut.
9
Keep cake stored covered in the refrigerator. I like to stick toothpicks in the cake and top it with plastic wrap to keep the coconut and cool whip from looking smashed.