I tried Burrata for the first time several weeks ago and I was hooked! My mom and I had a burrata appetizer at a restaurant and we loved it so much that we had to recreate it at home. If you haven't tried burrata, it's a ball of fresh mozzarella that is firm on the outside and then soft and creamy on the inside. It's pure heaven. This easy, but impressive and super delicious appetizer combines burrata with roasted garlic and tomatoes, fresh basil, balsamic vinegar, and flatbread. It's so flavorful and fresh!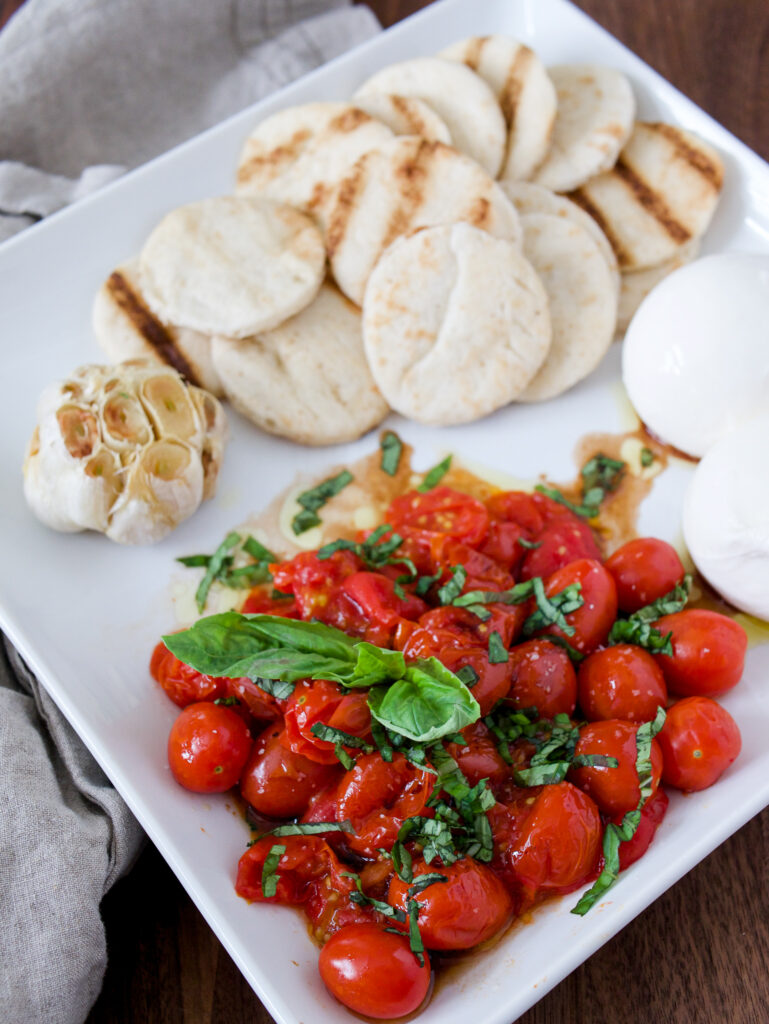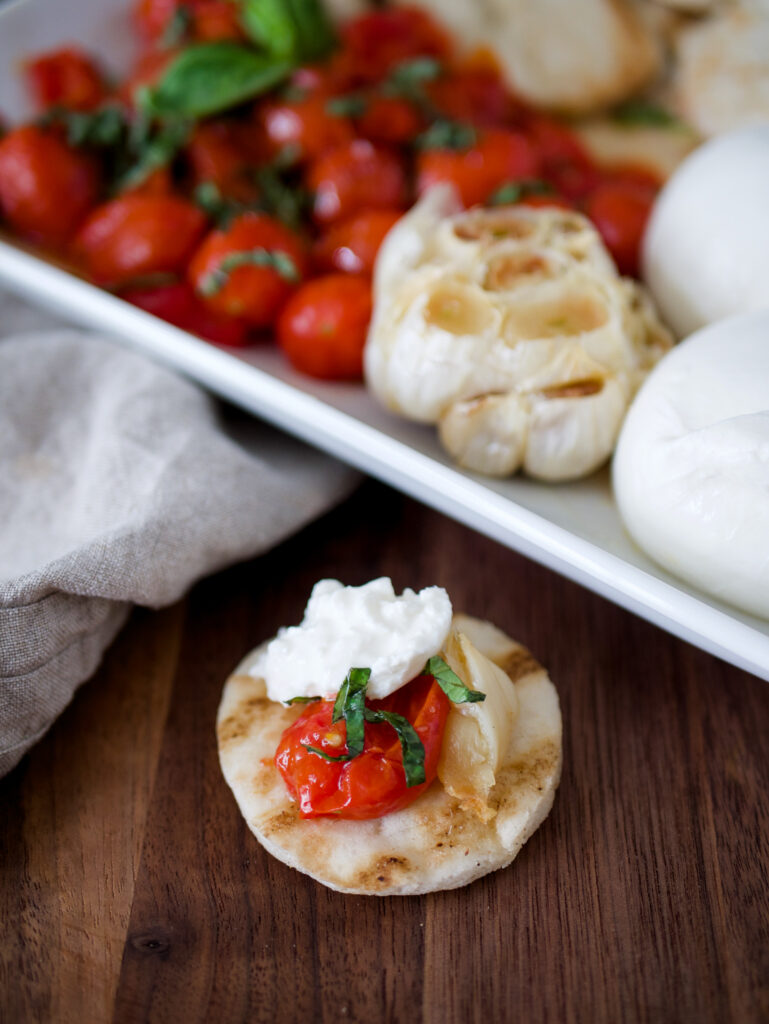 Roasted Tomato and Garlic Burrata
Ingredients
1 head garlic

1 pint grape tomatoes

1- 4oz burrata ball (burrata comes in an 8oz container with 2- 4oz balls)(see notes below)

fresh basil leaves

olive oil

balsamic vinegar

coarse salt

flat bread, pita bread, or naan (some kind of soft small bread)
Instructions
1
1. Preheat oven to 400 degrees.
2
2. Peel the top layers of the outside of the garlic so that only one or two layers are left.
3
3. Slice off the the top of the head of garlic so that the tops of the cloves are exposed. Slice off the tops of the cloves that are on the sides that didn't get sliced so those are exposed as well.
4
4. Lay garlic head on a square sheet of foil. Drizzle with olive oil and wrap in the foil. Place it on a jelly roll pan and bake for 20 minutes.
5
5. Remove pan from oven. Pour the tomatoes onto the pan with the garlic. Bake for an additional 20 minutes.
6
6. With a few minutes of baking time left, chop up a few basil leaves and set aside. Get your serving platter ready.
7
7. When baking time is up, plate roasted tomatoes onto your serving platter.
8
8. Drizzle roasted tomatoes with olive oil and balsamic vinegar. Sprinkle with coarse salt and chopped basil.
9
9. Remove garlic head from foil and place on serving platter. Place burrata and flatbread on the serving platter.
10
10. Serve immediately. Serve with a little spoon and a little knife to dish burrata, garlic, and tomatoes onto the flatbread. Garlic cloves come out easily with the tip of a knife.
Notes
Burrata comes in a plastic container and can be found in the specialty cheese and deli section of the grocery store. It comes with 2 balls in a container. Depending on how many people you are serving, you can use just 1 burrata ball and follow the amounts above, or you can use both balls and do 2 heads of garlic and 2 pints of tomatoes.