Out of all of the meals I make, this one is Tyler's fav. He loves it because it's fresh, flavorful, filling, and best of all pretty healthy. This pasta is made with simple, fresh ingredients and it's one of those meals that you feel good about eating and serving to your family. Even my picky eaters will eat it, even if they're just picking out the noodles.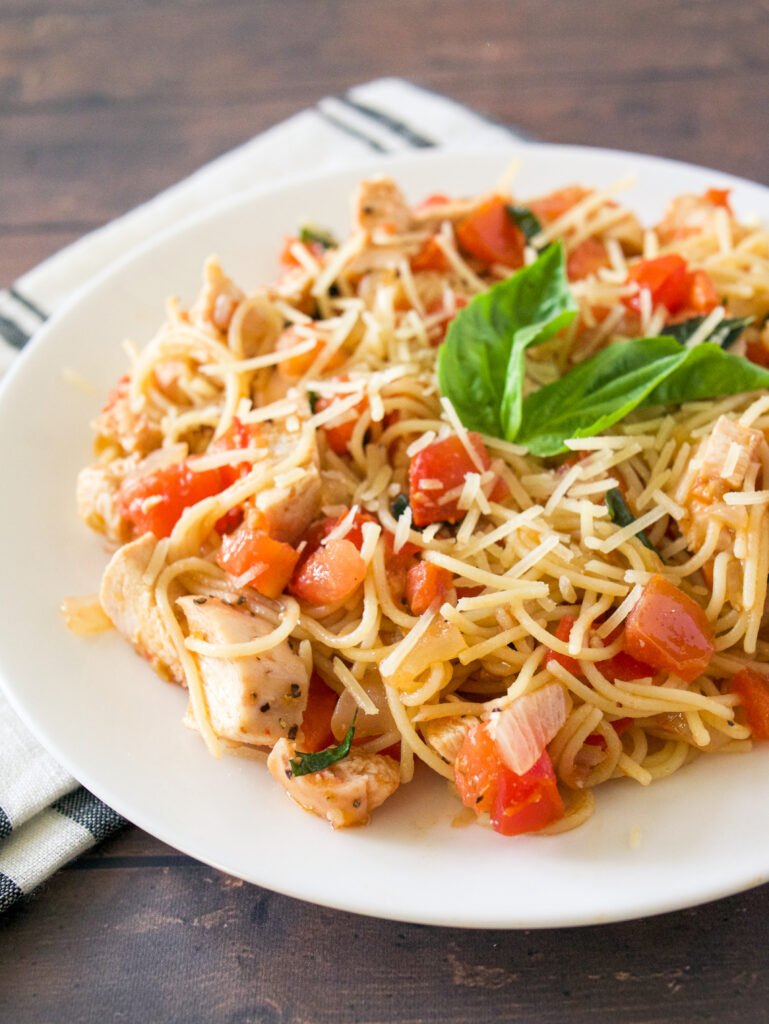 Tomato Basil Chicken Pasta
Ingredients
1 lb. chicken breasts

8 oz. angel hair pasta

1/2 large onion, diced

2-3 cloves garlic, minced

1/4 cup olive oil

6 roma tomatoes, diced

1 Tablespoon balsamic vinegar

1 teaspoon sugar

1 teaspoon salt

1/2 teaspoon pepper

1/4 cup chopped fresh basil leaves

grated parmesan cheese (optional)
Instructions
1
Salt and pepper chicken breasts. Bake at 350 degrees for 20-40 minutes, depending on the size of the chicken, or until cooked through and juices run clear.
2
Meanwhile, fill a pot with water according to pasta directions, and place over high heat to bring to a boil.
3
Dice onion, garlic, and tomatoes and set aside, keeping them separated from each other.
4
Heat oil in a large skillet over medium heat.
5
Add diced onions and cook, stirring frequently, for a few minutes until onions are soft. Add garlic and cook 1 minute more.
6
Add diced tomatoes, balsamic vinegar, sugar, salt and pepper. Cook over low, stirring occasionally, for about 10 minutes.
7
Meanwhile, boil pasta according to package directions, and drain when it is done cooking. Dice chicken when it is done cooking.
8
Add cooked pasta, diced chicken, and chopped basil to tomato mixture. Stir to combine. Cook 3-4 minutes or until heated through.
9
Serve immediately. Garnish with grated parmesan cheese if desired.
Notes
If needed, Roma tomatoes can be substituted with 2 cans of undrained petite diced tomatoes.