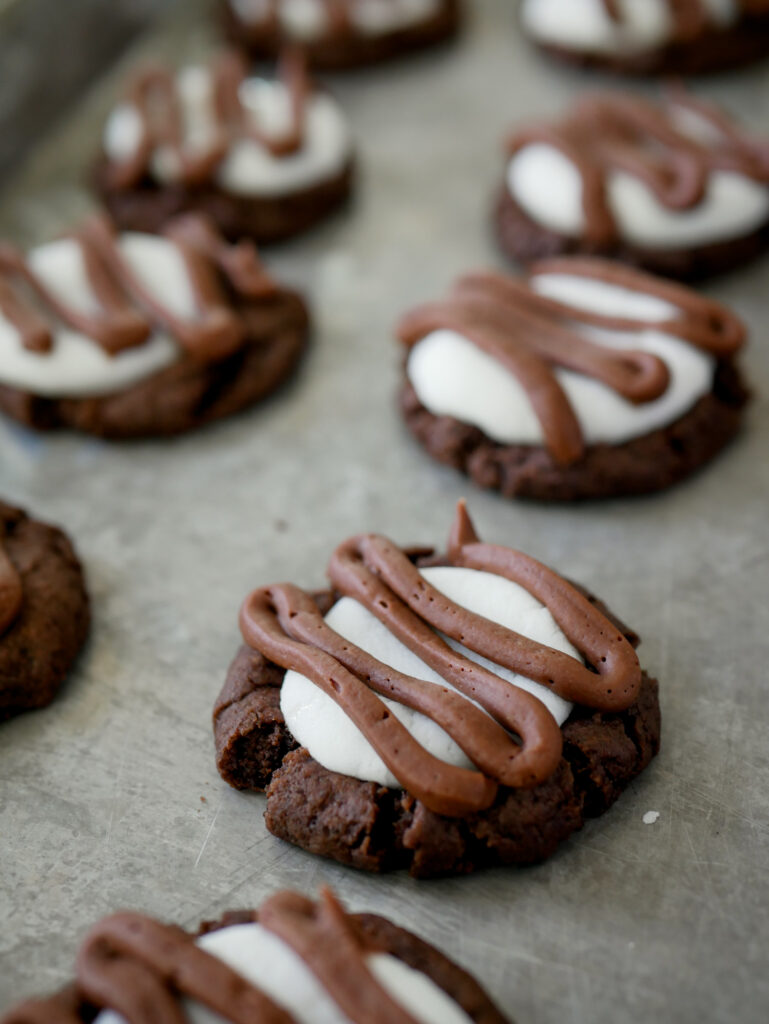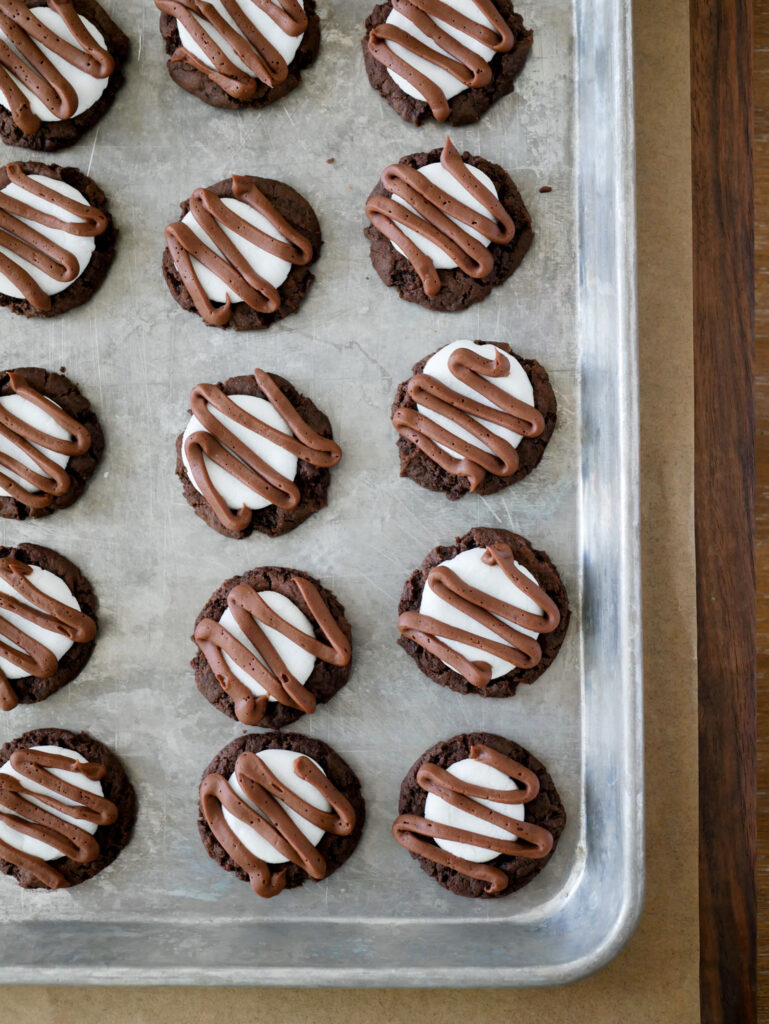 Chocolate Marshmallow Cookies
Ingredients
1/2 cup butter

1 cup sugar

1 egg

1 teaspoon vanilla

1/4 cup milk

1 3/4 cups flour

1/2 teaspoon salt

1/2 teaspoon baking soda

1/2 cup cocoa powder

1 package large marshmallows

CHOCOLATE FROSTING

1/4 cup butter, melted

2 cups powdered sugar

1/4 teaspoon salt

3 Tablespoons cocoa powder

1/4 cup milk
Instructions
1
1. Preheat oven to 350 degrees.
2
2. Cream butter and sugar together.
3
3. Add egg, vanilla, and milk and mix until combined.
4
4. Add flour, salt, baking soda, and cocoa powder. Mix until combined.
5
5. Using a mini cookie scoop (about 2 teaspoons), scoop out cookies onto a cookie sheet.
6
6. Bake 5-7 minutes. (I recommend 5 minutes for a single cookie sheet. I recommend 7 minutes for double stacked cookie sheets. See note below.)
7
7. Meanwhile, cut marshmallows into thirds. Keep the tops and bottoms, discard the middle pieces.
8
8. Remove cookies from oven.
9
9. Press a marshmallow slice, sticky side down, into each cookie.
10
10. Bake 2 minutes more. Remove from oven and softly press marshmallows down with the back of a spoon.
11
11. Cool cookies completely.
12
12. In a medium bowl, beat all frosting ingredients together until smooth. Add more milk by the teaspoon if frosting is too thick.
13
13. Spoon frosting into a ziplock bag. Cut a small hole in the corner of the bag. Drizzle frosting over cooled cookies.
Notes
I like to double stack my cookie sheets when I bake cookies to insulate the bottoms of the cookies so they don't bake too fast. This helps make cookies stay super soft.