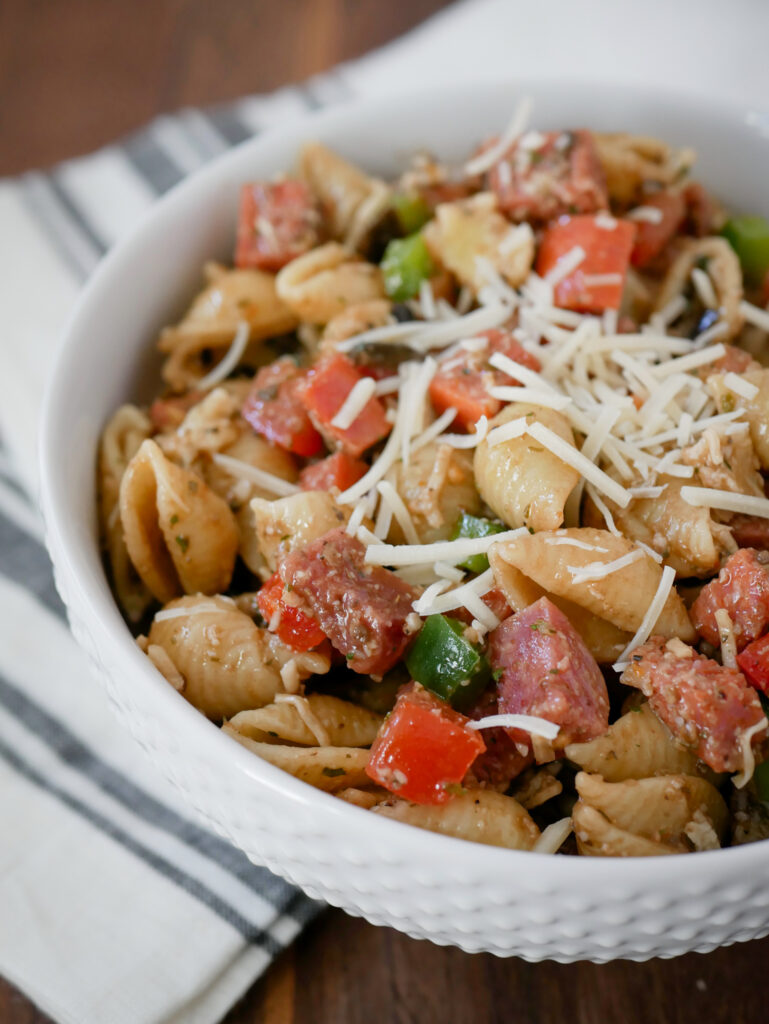 Ingredients
1 lb shell pasta (the medium size, not the small or the jumbo)

5 to 8 ounces, pepperoni sausage

5 to 8 ounces, salami sausage

1 green pepper

1 red pepper

2-3 tomatoes

4.25oz can chopped black olives

8oz block of Asiago or Monterey Jack cheese

1/4 cup grated parmesan cheese

1/2 cup shredded parmesan cheese

SALAD DRESSING

3/4 cup extra virgin olive oil

1/4 cup balsamic vinegar

.7 oz packet Italian style salad dressing mix

2 Tablespoons dried oregano leaves

1 Tablespoon dried parsley flakes

1/4 teaspoon salt

1/4 teaspoon pepper
Instructions
1
1. Cook shell pasta according to package directions.
2
2. Meanwhile, dice pepperoni, salami, green pepper, red pepper, tomatoes, and block of cheese into 1/2 inch cubes.
3
3. Set cubed cheese aside.
4
4. Pour all other cubed ingredients into a large bowl and lightly mix together.
5
5. When pasta is cooked, drain and pour into the bowl with the cubed ingredients and lightly mix.
6
6. In a medium bowl, combine all dressing ingredients and whisk together.
7
7. Pour over pasta salad and mix until combined.
8
8. Chill pasta salad for a few hours until completely cold.
9
9. Add cubed cheese, grated parmesan, and shredded parmesan. Mix until completely combined. Cover and refrigerate until ready to serve.
Notes
This pasta salad tastes best after its been assembled and refrigerated for at least 24 hours. However, this can be made and served immediately.