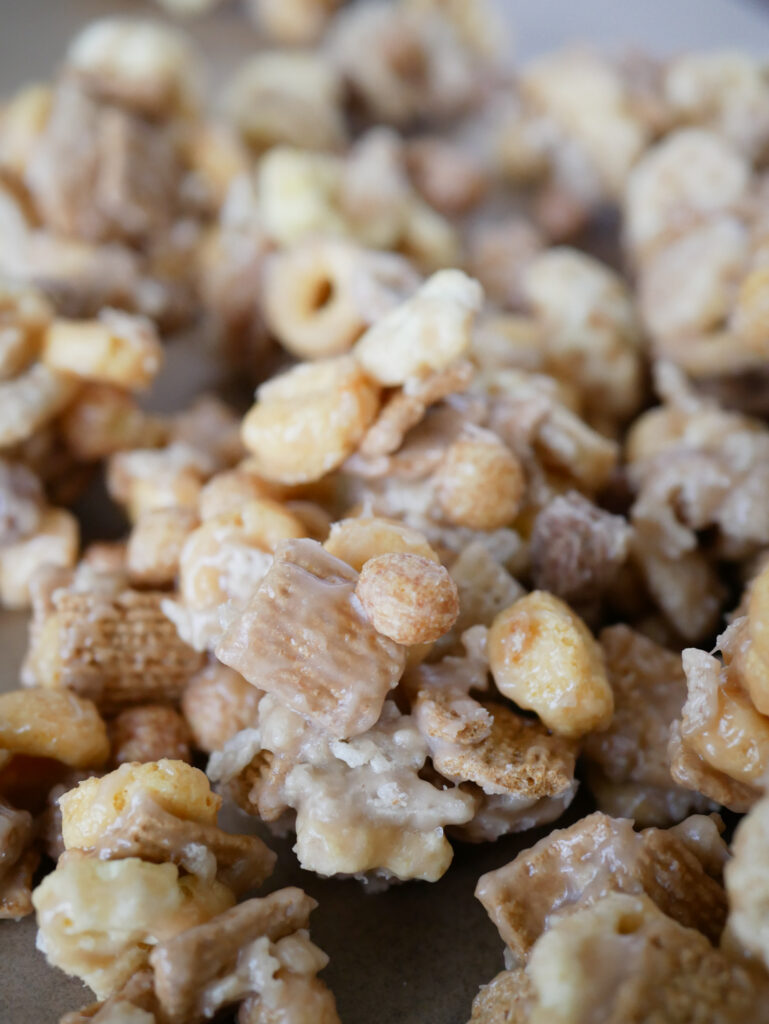 Ingredients
15 cups cereal (You can use any combination you like. I did 3 cups of each of the following- Ohs, Honeycomb, Golden Grahams, Rice Chex, Reeses Puffs)

1 cup butter

2 cups sugar

3/4 cup corn syrup

dash of salt

1 cup heavy whipping cream

1 Tablespoon vanilla
Instructions
1
1. Mix cereals together in a large bowl.
2
2. Combine butter, sugar, and corn syrup in a large pot over medium heat. Whisk until butter is melted and sugar dissolves.
3
3. Whisk in heavy cream. Bring to a boil over high heat.
4
4. Using a candy thermometer, boil over medium-high heat until mixture reaches the 'Soft Ball' stage at 240 degrees. Stir occasionally while the mixture is boiling to make sure it boils evenly and doesn't burn.
5
5. Immediately remove from heat when it reaches 240 degrees.
6
6. Carefully whisk in vanilla, it will bubble. Immediately pour over mixed cereal.
7
7. Stir cereal right away before mixture cools. Stir until cereal is completely coated and not sticky, but feels a little greasy to the touch.
8
8. Spread cereal mixture out over two cookie sheets to cool. Once cooled, break up into smaller pieces and store covered at room temp.
Notes
You can add other items to the cereal mixture like pecans, peanuts, cashews, coconut, etc. Just make sure it all totals up to 15 cups.