I asked Tyler what recipe I should share with all of you next and he suggested this one because it's one of our family's favorites! Tyler has been making these waffles for years and he eats them almost every morning. He loves them because not only are they super fast and easy to make, but they are really healthy and loaded with protein. And I have to say, for a really healthy waffle, these are pretty darn good!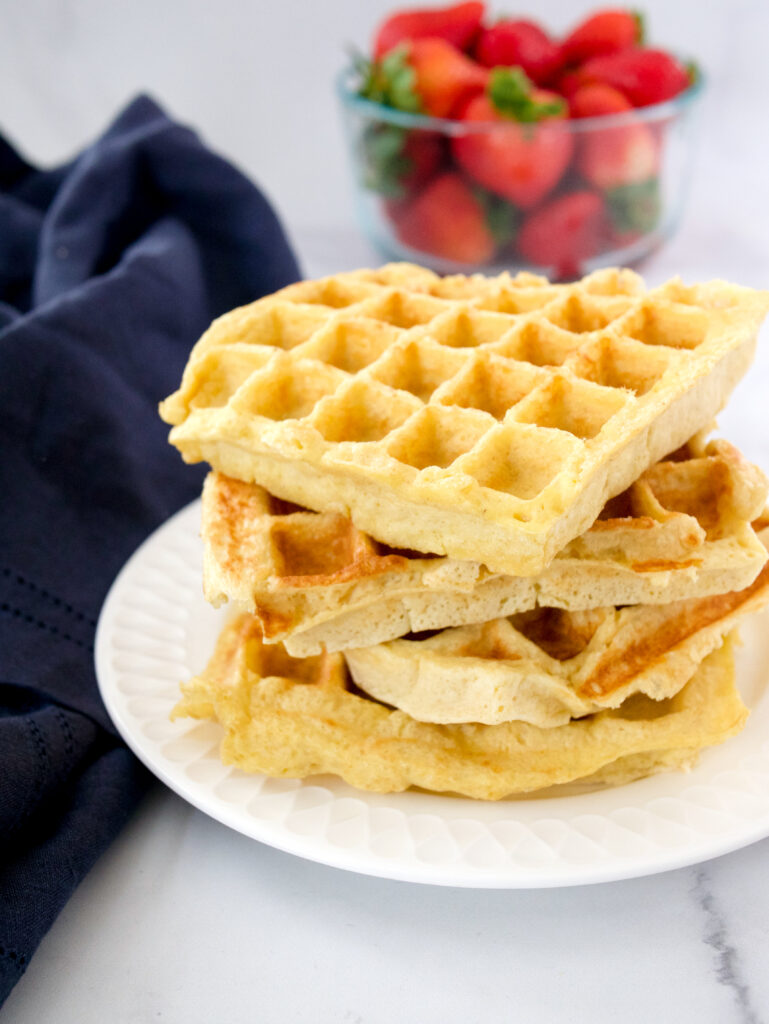 Here are the macros for this recipe which is 4 waffles.
587 calories, 49 grams protein, 23 grams fat, 47 grams carbohydrate
For someone who is working out and trying to build muscle, eating 4 of these waffles for breakfast is really great. For someone who is trying to stay lean and eat healthy, eating one or two of these for breakfast is great.
Tyler likes to eat these with a little whipped cream and top them with berries. My kids love these and will eat them every time Tyler makes them!
Protein Packed Waffles (Gluten Free)
Ingredients
3 eggs

1 egg white

3/4 cups old fashioned oats

3/4 cup cottage cheese

1 teaspoon vanilla
Instructions
1
Combine all ingredients in a blender. Blend until smooth. (Batter will be liquidy and not thick).
2
Preheat waffle iron. Spray with non-stick cooking spray.
3
Pour batter into waffle iron and cook until waffles are golden.
Notes
We make these in a Belgian waffle iron. Tyler likes to preheat the waffle iron, spray the bottom with non-stick cooking spray, pour in the batter, and then let it cook for about 1 minute before spraying top of the waffle iron and closing it to let it finish cooking. This prevents the batter from spilling over when closing the waffle iron. This recipe yields 4 Belgian size waffles. This recipe can be easily doubled or multiplied to make more waffles.