This was probably my favorite meal that my mom made while I was growing up. I love making it for my family. I love it so much that I made it into a pie that we used to sell at Crust Club. This Chicken a la King is pure comfort food. The sauce is mild and creamy, full of chicken and veggies, and served over rice. The best thing is that I know when I make this, my entire family will eat it!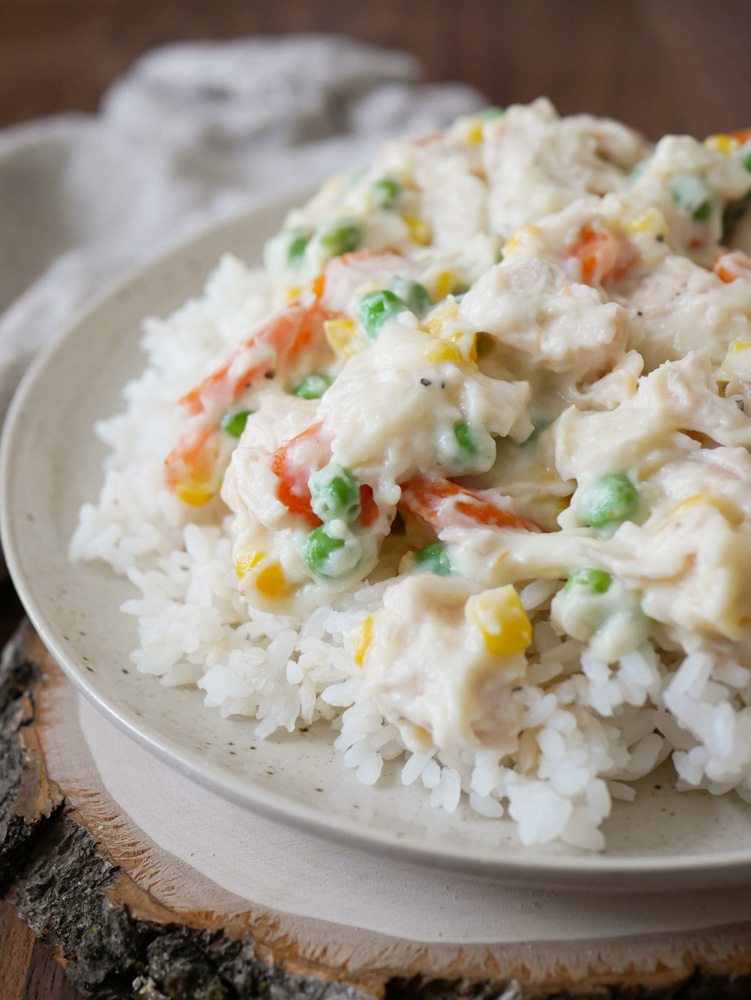 Ingredients
1 to 1 1/2 pounds chicken, cooked and diced

2 cups uncooked rice, cooked

2 medium carrots

1/2 cup butter

1/2 cup flour

1 teaspoon salt

1/4 teaspoon pepper

1 1/4 cups warm water

1 1/2 cups milk (1% or higher)

1 1/2 teaspoons chicken bouillon

1/2 cup frozen peas

1/2 cup frozen corn
Instructions
1
1. Prepare and start cooking chicken and rice so that they are cooking while you make the sauce.
2
2. Slice carrots. Boil or steam until tender.
3
3. Measure out flour, warm water, and milk and set each aside so that they are easy to grab.
4
4. In a large saute pan, melt butter while stirring over medium-low heat.
5
5. Whisk in flour, salt, and pepper. Whisk over low until mixture is smooth and starts to bubble.
6
6. Immediately pour in water and milk. Lightly whisk together.
7
7. Add chicken bouillon and whisk over medium-high heat until completely combined.
8
8. While stirring, bring to a boil and boil for 1 minute, stirring constantly.
9
9. Turn heat to low. Add frozen peas, frozen corn, steamed carrots, and cooked diced chicken. Stir until combined. Keep on low until all veggies are heated through and ready to serve.
10
10. Serve over cooked rice.
Notes
You can adjust, omit, and add veggies as you like.