This is one of my favorite cakes to make and eat. Not only is it fresh and delicious, and super easy to make, but it looks beautiful! Ricotta is whipped into the batter making this cake super moist and dense. Lemon juice and zest are added to the batter and the topping to give this cake a perfectly light lemon flavor.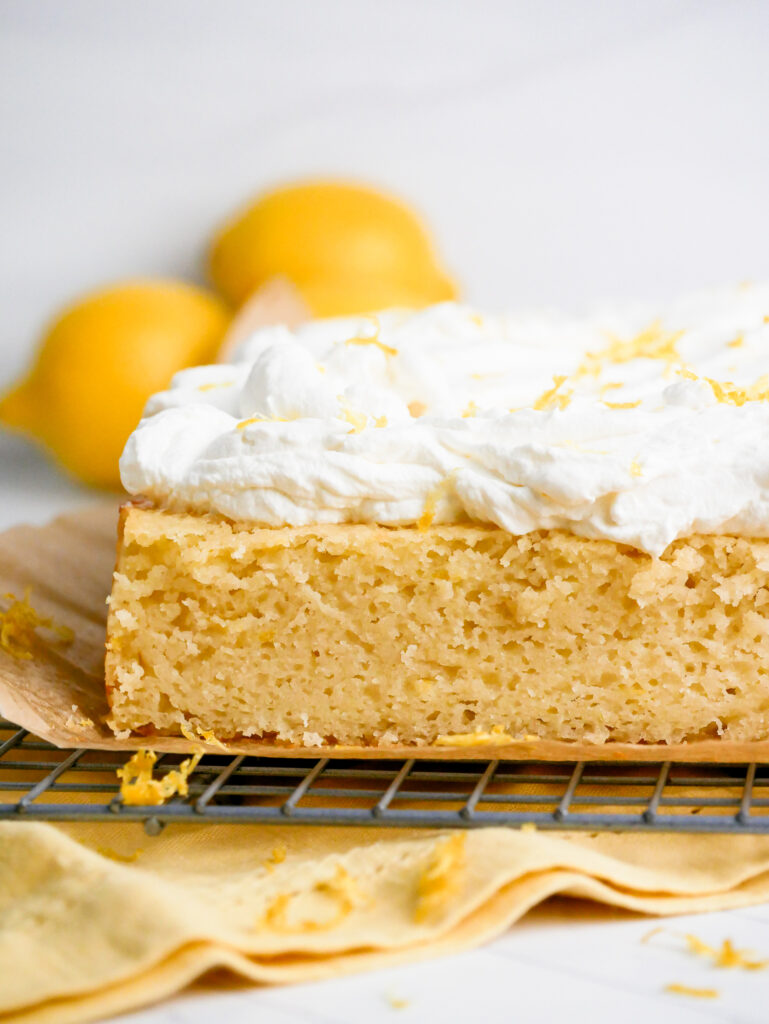 Ingredients
CAKE BATTER

½ cup unsalted butter, room temperature

1 ½ cups sugar

15 oz whole milk ricotta cheese

Zest of 2 lemons

¼ cup lemon juice

2 Tablespoons vegetable oil

2 teaspoons vanilla extract

3 eggs

1 ¼ cups flour

½ teaspoon baking soda

1 teaspoon salt

LEMON WHIPPED TOPPING

2 cups heavy whipping cream

¾ cup powder sugar

Zest of 1 lemon

1 teaspoon vanilla

Lemon zest for garnish (optional)
Instructions
1
Preheat the oven to 350 degrees. Line a 9x9 inch cake pan with parchment paper.
2
To make the cake batter, add butter and sugar to the bowl of a stand mixer. Cream together on medium-high with paddle attachment for 3 minutes, scraping down the bottom and sides of the bowl as needed.
3
Add ricotta and beat on medium-high for 5 minutes, scraping down the bowl as needed. Meanwhile, prepare the lemon zest and lemon juice.
4
Add lemon zest, lemon juice, oil, vanilla, and eggs. Mix just until combined.
5
Add flour, baking soda, and salt. Mix just until combined.
6
Pour the batter into the prepared cake pan. Bake on the middle oven rack for 35-45 minutes or just until a toothpick inserted into the center comes out clean.
7
Carefully remove the cake from the pan and set it on a cooling rack. Cool the cake completely.
8
Make the Lemon Whipped Topping by combining the heavy whipping cream, powdered sugar, lemon zest, and vanilla in the bowl of a stand mixer.
9
Beat with whisk attachment on medium-high until stiff peaks form.
10
Spread whipped topping onto the completely cooled cake. Garish with additional lemon zest if desired.
11
Store in the refrigerator and serve chilled.