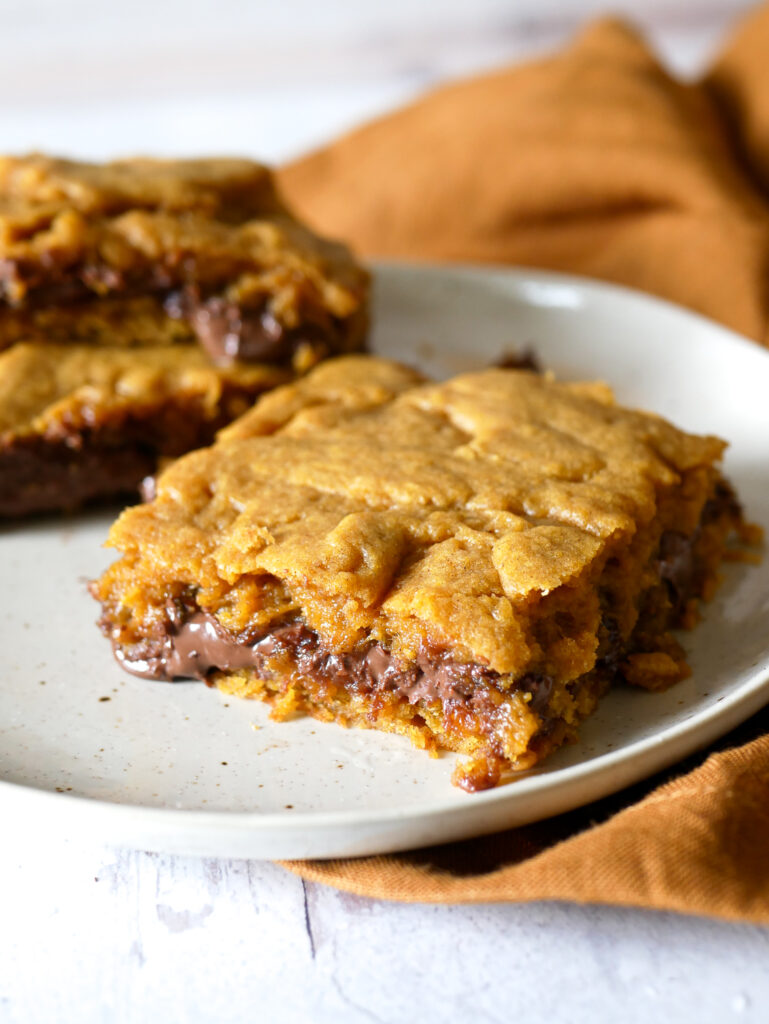 Ingredients
1 cup butter, melted

1 cup pumpkin puree

1 1/4 cups brown sugar

3/4 cup sugar

2 eggs

1 Tablespoon vanilla

1/2 teaspoon salt

1/2 teaspoon allspice

1 teaspoon nutmeg

2 teaspoons cinnamon

3 1/2 cups flour

1 teaspoon baking powder

1 1/2 cups nutella
Instructions
1
Preheat oven to 350 degrees. Spray a 9x13 inch baking pan with non-stick cooking spray.
2
In a large bowl, combine all ingredients except for flour, baking powder, and Nutella. Whisk together until smooth.
3
Add flour. Pour baking powder on top of flour. Whisk until completely combined.
4
Add half of the pumpkin batter to the prepared baking pan and evenly smooth over the bottom of the pan. (The batter is sticky so I like to spray the back of a spatula with non-stick cooking spray so that it doesn't stick and is easier to smooth.)
5
Bake for 6 minutes. Remove from oven and carefully spread Nutella over the top.
6
Take the remaining pumpkin batter, about 1/4 of a cup at a time, and squish it into a flat disks and lay it on top of the Nutella. Do your best to make sure the top layer of pumpkin batter is covering the Nutella layer evenly and completely. (The batter is sticky so it helps to spray your fingers with non-stick cooking spray as you go.)
7
Return pan to oven and bake for 23-25 minutes or until a toothpick inserted into just the top layer of the pumpkin batter comes out clean.
8
Let cool. Store covered at room temperature.