This eggnog recipe is one of my favorite Christmas traditions, and I'm not even a fan of eggnog. This tradition started the first year Tyler and I were married. We got married on December 1st, and during our first Christmas together, we visited one of Tyler's best friends, at his friend's parent's house. His friend's mom, Cathy, served us this eggnog and I was immediately worried that I was going to have to pretend that I liked it because eggnog is just not my thing. I was so surprised when I tried it and it was amazing! Cathy was so sweet and nice to share her recipe with us and now I make it every year because it really is the best eggnog! It's light, creamy, fresh, and full of flavor, it's literally Christmas in a cup!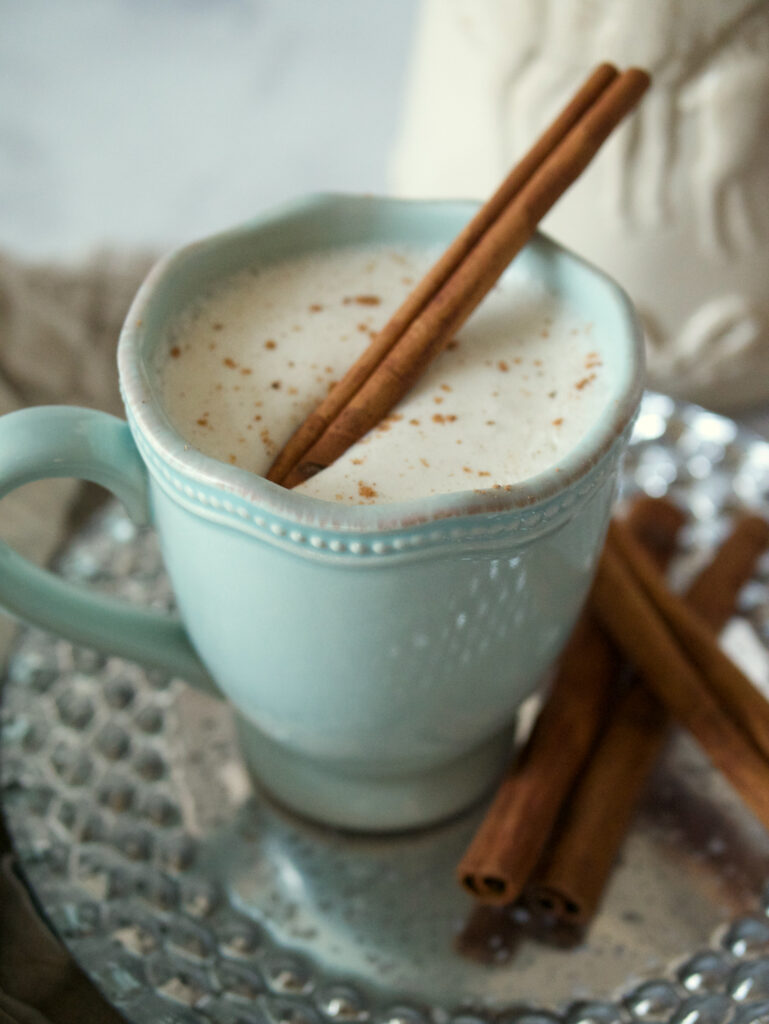 Ingredients
4 eggs, separated into yolks and whites

2/3 cup sugar

1/2 teaspoon salt

8 cups milk

6 Tablespoons sugar

1/2 teaspoon nutmeg

1/2 teaspoon cinnamon

2 teaspoons vanilla

1 cup heavy whipping cream
Instructions
1
1. Pour egg yolks into a large pot. Add 2/3 cup sugar and salt. Whisk until combined.
2
2. Add milk and whisk until combined.
3
3. Heat over medium-low heat, stirring frequently until milk is scalded. (Scald= heat milk mixture until just before it boils, remove from heat right before milk boils.)
4
4. Cool milk mixture in refrigerator until completely cooled. (I like to pour the milk into a large pitcher to let it cool.)
5
5. When milk mixture is completely cooled, beat egg whites in a large bowl with an electric mixer until white and foamy.
6
6. Add 6 Tablespoons sugar, nutmeg, cinnamon, and vanilla. Beat until combined.
7
7. Add heavy whipping cream and fold into egg white mixture.
8
8. Pour egg white mixture into milk mixture. Fold together until completely combined.
9
9. Store in refrigerator. Stir before serving.
Notes
You can use whatever kind of milk you'd prefer for this recipe. I usually use what I have on hand. If you want a thicker, creamier eggnog, use whole milk. If you'd like a lighter eggnog, use 1% or 2%. This recipe is delicious either way.